Overall cost of Waimārama Rd Cycleway washed away by Cyclone Gabrielle to surpass $1M
by Astrid Austin
Saturday, Oct 07, 2023 4:00 PM
A cycle trail washed away by Cyclone Gabrielle is expected to cost $500,000 - $200,000 shy of it originally cost to build.
The Waimārama Rd Cycleway - 3km off-road towards Craggy Range Winery - has been closed since the cyclone devastated the region in February.
It is part of the wider 200km Hawke's Bay Trails network, of which 30 per cent was severely damaged and closed by the cyclone.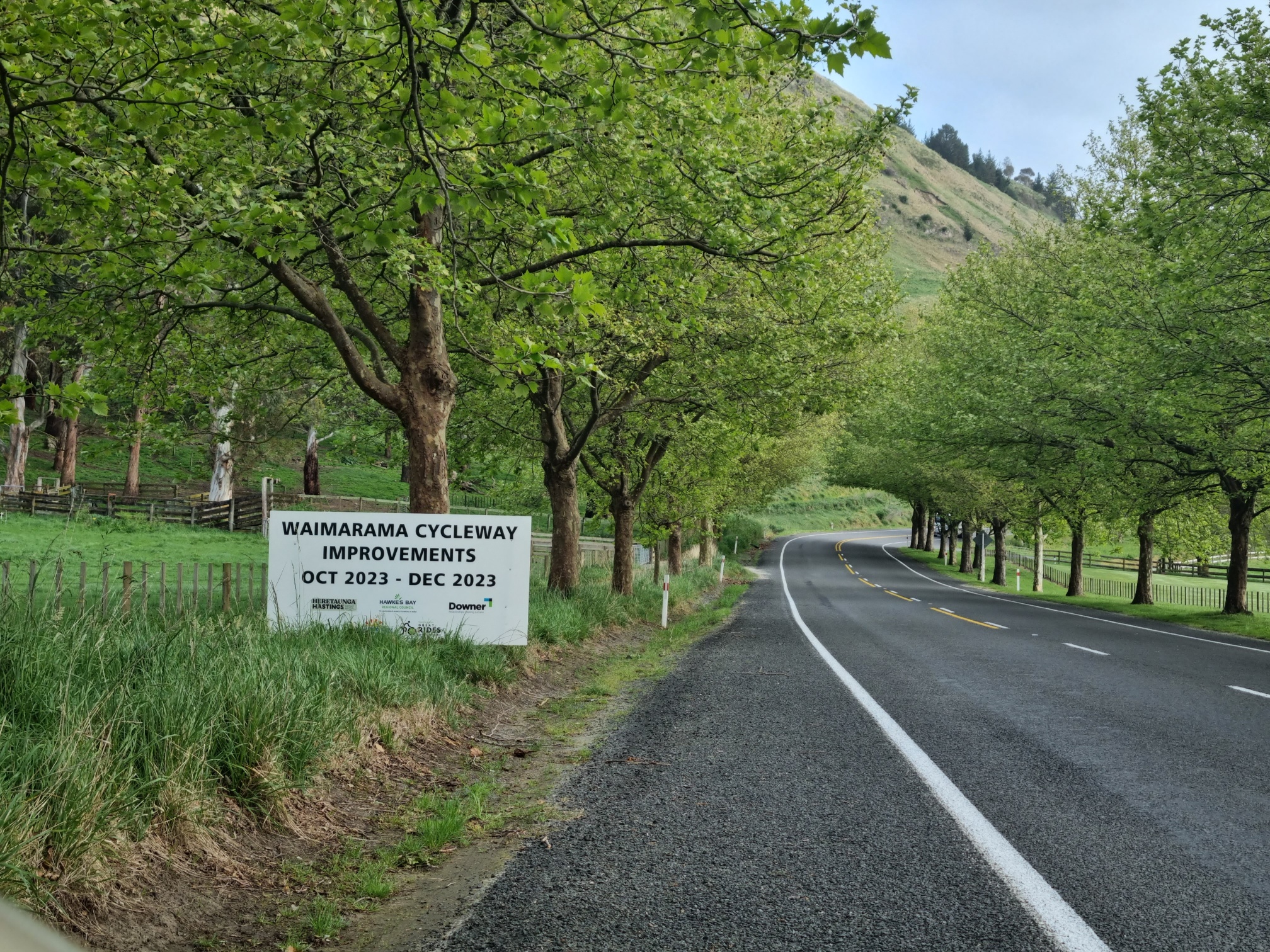 The Waimārama Rd Cycleway pictured opposite the entrance to Craggy Range Winery.
Delays and damage have plagued the Waimārama Rd Cycle Trail since work started in January 2021.
It replaced a 3km on-road section of the Tukituki Loop and was identified by Ngā Haerenga New Zealand Cycle Trails as a safety concern, due to it being an open road, 80km/h speed limit area.
The cycleway opened mid-June 2021 at a cost of about $717,000 with funding support from the Ministry of Business, Innovation & Employment (MBIE), Hawke's Bay Regional Council (HBRC), Eastern & Central Community Trust (ECCT) and Hastings District Council (HDC).
A three-day rain event closed the trail for two weeks just a few days after opening. The repairs were included in the initial $717,000 budget, as there were also some finishing works required, an HDC spokesperson said.
Last year, the Hawke's Bay Trails were damaged in a storm event, costing $86,500 in total of damage. MBIE funded $61,500 of this, including $11,500 for repairs to the Waimārama section. This damage did not lead to the Waimārama trail being closed.
Work to repair the damage caused by Cyclone Gabrielle began on Monday (October 2) and is expected to be completed in December.
HBRC Asset Management Group Manager Chris Dolley says they are very excited to be able to get this important piece of regional infrastructure ready for the tourist season.
"The repairs are expected to cost approximately $500 000 to repair and this includes resilience measures."
"The repair cost was included in the HBRC application, as this section is part of the Hawke's Bay Trails Great Ride. They applied successfully on behalf of HDC, to the Ministry of Business, Innovation and Employment through the 'Managing the Great Rides Fund' (Enhancement & Extreme Event Funding) and will be fully funded through this."
HDC is in charge of the work and has also received funding from Rotary's Disaster Relief Fund to assist with resilience improvements.
A spokesperson says the repairs will include upgrades in some areas with concrete sections and retaining walls.
"About 300m will be concreted in areas that are most prone to scouring. This has been based on several walkovers with staff, contractors, and Master Trail Builders.
"We look forward to re-opening this section of the trails for both our residents and visitors."