Video: Meet the Candidates meetings in full swing for Hawke's Bay candidates
by Andrew Austin, contributing editor. Video by Ben Firman, Public Interest Journalism Fund
Sunday, Sep 17, 2023 10:12 PM
With weeks to go before the general elections, the Hawke's Bay candidates have been pushing their message at numerous meet the candidate meetings.
Earlier this month, candidates from Napier and Hastings attended a Business Belles event in Napier. They were National Tukituki candidate Catherine Wedd; ACT's Tukituki candidate Rob Douglas; National's Katie Nimon for Napier; Labour's Napier candidate Mark Hutchinson; ACT's Pawel Milewski for Napier; and Labour's Tukituki MP Anna Lorck.
ACT candidate Douglas says New Zealand is a great country, but unfortunately the polls tell us Kiwis know we are heading in the wrong direction.
"This is our chance to save the Kiwi dream. We are campaigning in the ACT Party on three main issues, among many others, but it's crime, cost of living, and co-governance that are the issues that the people of New Zealand are telling us that they want us to tackle."
"Crime under this government is out of control. Labour set a prison reduction target; they should have set a crime reduction target. As a result, they're soft on criminals. The criminals know it and serious assaults have gone up 121%."
Douglas says a whole new change of direction is needed.
"That's why you need a strong party vote for ACT to ensure that we have plenty of seats around the table to ensure we deliver real change in this country after the election. And that's the steel that ACT will provide in the next government."
National's Nimon says she has spent a lot of time across the entire electorate and not one issue is the same.
"But across the entire electorate, everybody can see that the country is going backwards. Everybody is struggling to get ahead."
Nimon said her party was going to reduce the cost of living, grow the economy, we are restore law and order, build infrastructure for the future, and have world-class health and education.
"Now you can't do that, you cannot consistently increase the budgets for health and education if you do not grow the economy."
"You cannot continue to tax people more and more and give back to the system because those are the willing and able who are equally willing and able to move to Australia or anywhere else in the world. And we are seeing that they are doing that."
"We need good economic management in a time where our economy is going backwards by the day. Our infrastructure is going backwards by the day. If any of you remember Links Road roundabout when that was an intersection, that should have been an overpass. We need to be thinking for the future. We need to party vote National to get New Zealand back on track and candidate vote for Katie Nimon and for Napier."
Her main rival for the seat, Hutchinson said he had a really strong interest in how do you grow successful, thriving, productive businesses in the regions.
He says that working in child and family psychology for the first decade of his career gave him a depth of understanding of some of the issues that underlie a whole range of issues in society.
"And the one that's come up today is crime obviously. I'm not saying all the kids I saw were in criminal families, but it's complex, it takes a long time and a lot of investment and this government's approach to that is around evidence-based approaches."
He said that each Labour government that's come in has made progressive changes in society which has benefited everybody.
"So what the Labour Party's about is making sure that there's a safety net underneath everybody and a ladder up. So the way out of crime and the way out of too many people on benefits is in our name. Labour."
"It's about getting people into work. We've got 240,000 people into apprenticeships, 60,000 of those would've been people that nobody would hire through our apprenticeship system."
"We have taken on massive reforms in health, which hasn't delivered benefits straight away because we are in the process of stripping out middle management and moving money to the front services. We've increased nurses' pay by 60%."
ACT's Milewski called on voters to vote for real change and to ignore the election campaigning misinformation.
" Just look at where New Zealand is. The government debt has increased by 98 billion over this government. The government spending is up 61% with no improvement in the frontline services, quite the opposite actually. The pay gap between New Zealand and Australia, it was $17,000 when this government came into power. Now it's $23,000. And only last year, we've lost 28,000 of people living permanently, that would be mostly to Australia.
"And those would be our most industrious, educated people. There's a selection. They left because they couldn't find the opportunity to match their attitude in this country."
"On the crime front, under this Labour government, the number of patched gang members has doubled. One third of adults have been victimised. That's just the statistics."
He said the ACT Party was the only party that has the policy to turn things around.
"We would strengthen New Zealand's democracy, do away with the co-governance agenda pushed by this government. Ensure that we retain equal voting rights. It is one person, one vote. The way it's always been in New Zealand."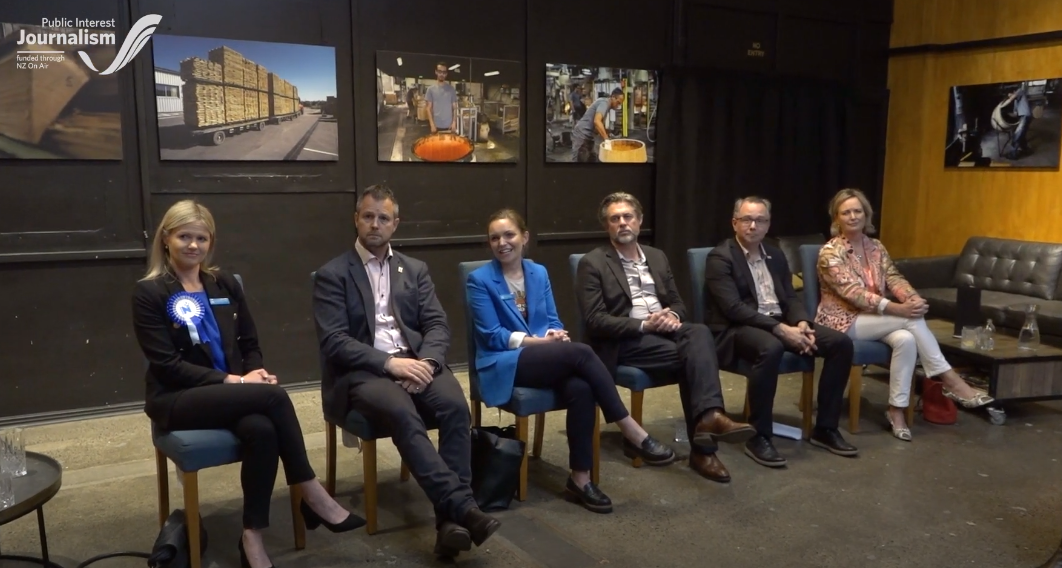 Wedd told the crowd that politics runs in her family. She said she and her husband came to Hawke's Bay 13 years ago.
"We had our four children, and then I moved into the horticulture sector and it was in the horticulture sector where I worked as head of marketing for Bostock New Zealand."
"And part of that role was promoting the premium produce that we produce here in Hawke's Bay on the global stage."
"As a food producing region here in Hawke's Bay, it's really, really important that we support our primary industries and all the businesses that support our primary industries because they all feed off it."
She said that in the past six year she had seen the government "absolutely hammer our growers and our farmers with red tape, regulation, compliance, costs and it's just made it really, really difficult and challenging to do business'.
"So here I am, standing up to be an advocate for our region and be aspirational for Tukituki."
"There's a really clear choice in this election. It is even more dysfunction and divide under Te Pati Māori, the Greens and Labour or strong, stable government under a National government, which will strengthen the economy, reduce the cost of living, restore law and order, and ensure that we have better health and education outcomes."
Lorck, who worked in the same public relations and marketing company, took issue with Wedd's summary of her work in Hawke's Bay.
"Unlike Catherine, I didn't have politics in my blood. I've got Hawke's Bay in my blood. And I stood for politics about 11 years ago because I wanted to see more done for our region. And I can stand here today and say that in the last six years we've seen more happen for Hawke's Bay and in our Tukituki electorate than we have ever seen from any government."
"We've had over $290 million invested into regional economic development and that has seen ... we've seen more houses being built, we've seen infrastructure coming in, we've seen a regional aquatic sports park that's with an Olympic swimming pool that is one of the world's best to attract people to our region."
Lorck said she built a business here 21 years ago.
"Catherine spent seven years working with me and we had a fantastic working relationship. And I think it's interesting that after all that time that you've been here, 13 years, I thought you might've just said we did work together and we did have some really good projects together."
"I think that that's an important thing about how we work together in Hawke's Bay."
Tags