Family advice right fuel for Penn's title quest
by Shane Hurndell
Tuesday, Jan 12, 2021 8:08 PM
Hawke's Bay speedway fans won't see Regan Penn at Thursday night's shake down sessions for this weekend's Meeanee-hosted national stockcar championship.

Penn agreed he couldn't have had a better rehearsal for the 226-car Hawke's Bay Doors-sponsored championship, Speedway New Zealand's biggest ever event, than what he produced in last week's Dash for Cash event at Meeanee. The 21-year-old fifth-season driver in the class finished third in his first heat from grid five, first in his second from grid 18 and first in his third from grid 16.

"We did a bit of a rebuild on the engine and got it going good so I won't be going to the practice," the apprentice automotive technician with Euro City explained.

"It would be pretty cool to win the title on home turf. But that will be extremely hard. I'll just have to try my hardest and see what happens," Penn said.

"I've got two other Hawke's Bay drivers in my group and a few other mates. But I just need to go for it and do my own business," Penn said.

"I just need to take each race as it comes and be a bit more chilled in my approach."

The driver of a Hartley Holden V6-powered car, Penn, won't be short of advice from within his own family throughout the weekend. His uncle, Jason Penn, won the title in 2016, another uncle, Shane Penn, is a two-time winner of the national superstock title and his grandfather, Bryce Penn, is also a former winner of the national superstock title.

"You know Bryce ... he doesn't say much but will let me know if I'm not doing what I have to," Penn quipped.

Penn is one of 38 Hawke's Bay drivers entered. The entrants have been divided into seven groups of 29 and one of 30.

Each group has three qualifying heats on Friday night. The top three drivers from each group after these heats qualify for the top 30 who will contest three championship heats on Saturday night.

Two repechage races will be staged on Saturday night and the top three from each will complete the top 30.

"It's going to take a lot of hard work to qualify ... it will be 80 per cent luck," Hawke's Bay Speedway Club's stockcar class rep Greg Zachan said after the eight groups were finalised.

"Once a driver gets a DNF they might as well help another competitor to qualify," Zachan said.

He pointed out 135 of the starters will take part in shake down sessions from 6.30pm on Thursday night. Racing starts at 6.30pm on Friday night and 6pm on Saturday night.

While Penn only has two Hawke's Bay clubmates in his group fellow in-form Meeanee Maulers driver Brett Loveridge has four including one of the country's best blockers Mike McLachlan.

There will be plenty of interest in the form of Hawke's Bay's former 3NZ Regan O'Brien who will be competing in the championship alongside son Kairyn and daughter Domonique who are all pictured below.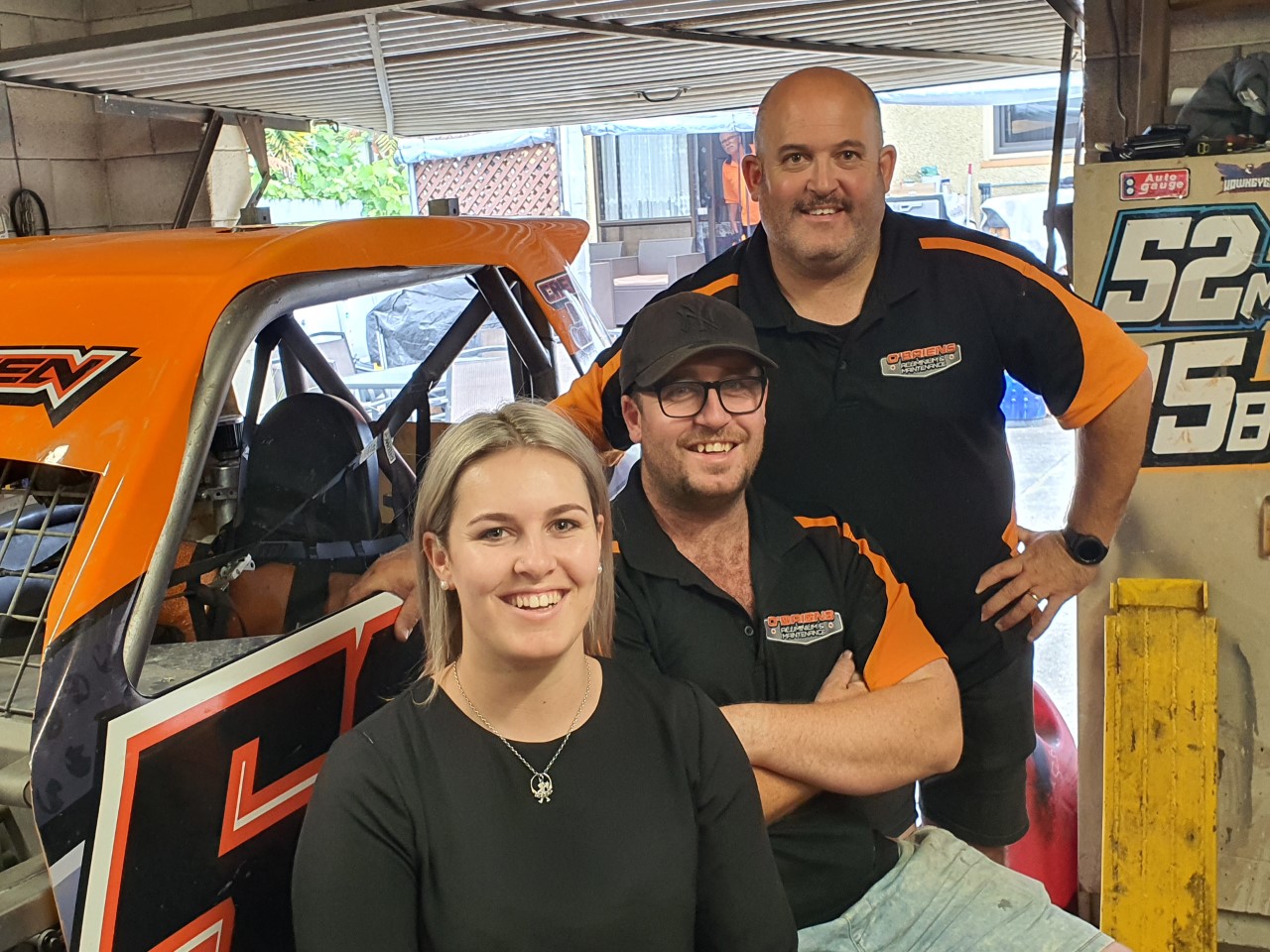 "It's a pity we aren't all in the same group. The kids could have blocked for me and helped me qualify," Regan quipped earlier this week.

Second and third tier groups will be run for the non qualifiers.