Cranford Hospice calls on community to meet new build fundraising target
by Hawke's Bay App
Monday, Aug 01, 2022 12:30 PM
Cranford Hospice is calling on the Hawke's Bay community to help fundraise the remaining amount needed for its $15 million new build project.
On Friday night the Hastings Karamu Rotary Cocktail Party, held at Bostocks Winery, marked the launch of the public fundraising campaign to help the charity reach its bold target.
Cranford Hospice CEO, Janice Byford-Jones says this is their largest, most vital fundraising ask to date.
"We're 90 per cent of the way there and now need our community to get behind us, in any way they can, to help build a hub for palliative care services for generations to come."
For 40 years Cranford Hospice has walked alongside our community, providing care to people living with a life-limiting condition and their whānau.
The team, who supports 200 people living with palliative care needs each day, is already experiencing the impact of the rapidly growing number of patients who need care.
By as early as 2025, it is estimated that Cranford Hospice will need to support another 500 Hawke's Bay patients and their families each year.
"We're already feeling the effect of this demand for our services by patients both young and old. Our need is urgent," Byford-Jones adds.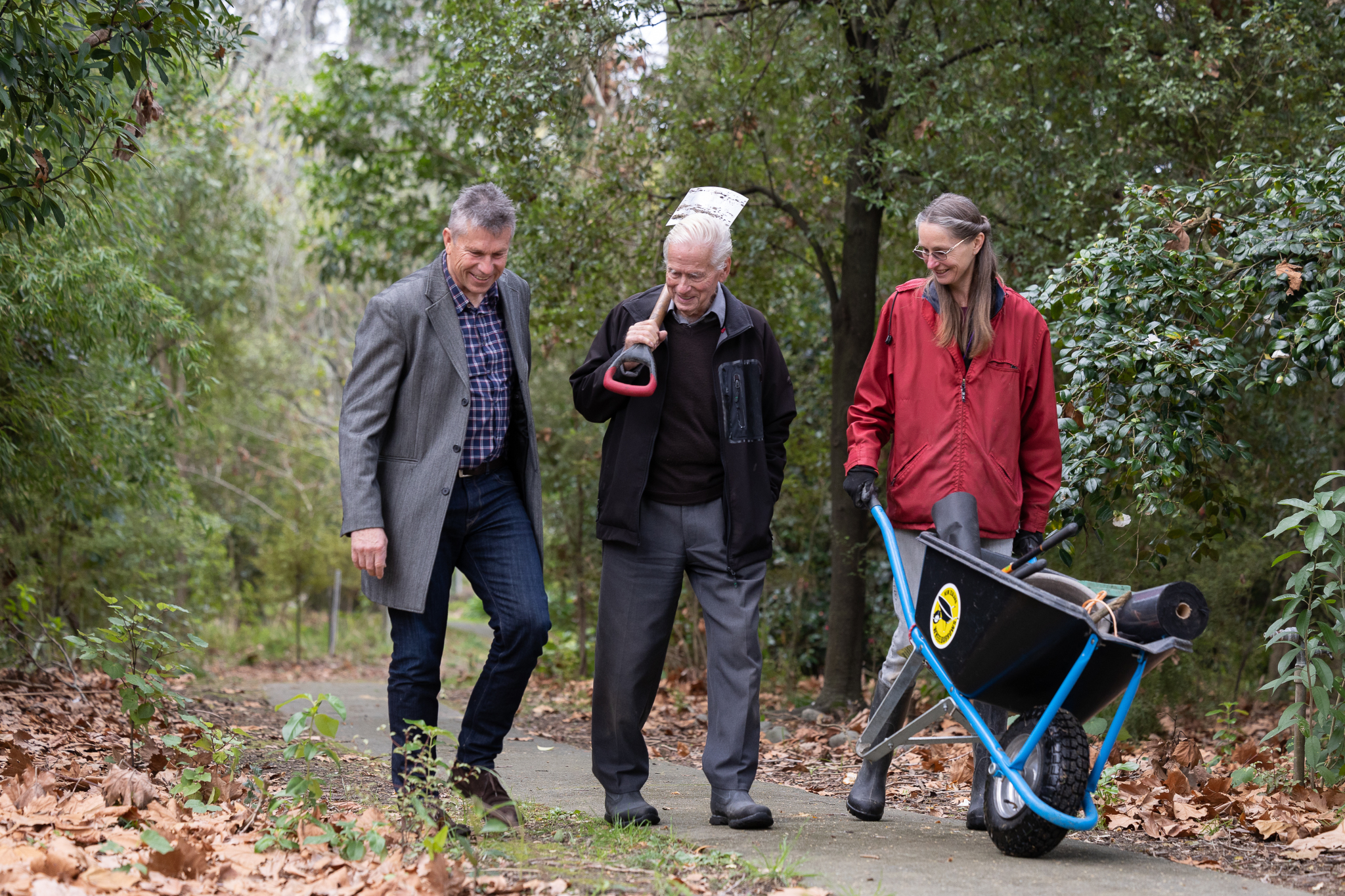 Volunteer gardeners Cath and Theo, walk with Cranford Hospice Foundation Chairman, Chris Tremain at Chesterhope, the site of the new hospice. Photo/Eva Bradley.
Cranford Hospice was fortunate to receive a generous offer from the Joan Fernie Charitable Trust for a secluded rural site 'Chesterhope', located at Pakowhai, midway between Napier and Hastings.
The established gardens - the Joan Fernie Gardens and Arboretum - provide a tranquil setting for patients and their whānau to receive the very best compassionate care and support that Cranford is known for.
The design of the new hospice facility will be better for patients and whānau and provide a purpose-built space to deliver Cranford's holistic model of care. At the heart will be a community care centre where patients and whānau can visit health professionals, and attend support groups, day programmes and other therapeutic activities.
Designs for the new facility are currently under review, with final plans to be ready by the start of 2023, and a goal for construction to be underway this time next year.
To date, $8 million has been donated by generous key supporters, organisations, trusts, and community groups, with $5 million being contributed from the Cranford Hospice Foundation Endowment fund. An additional $1.9 million is needed to reach the provisional fundraising target of $15 million.
"We know it is a lot of money, but we are confident the people of Hawke's Bay will pledge their support to bring this project to life," Cranford Hospice Foundation Chairman, Chris Tremain, says.
The compassionate care provided by Cranford is what drove father and daughter gardening duo, Theo and Cath, to pledge their support.
Cath's husband Chris, and Theo's wife Janice, were both under Cranford's care in their last days of life.
They have since spent countless hours volunteering as gardeners at both the Cranford's Knight Street facility, and more recently Chesterhope, the site of the new hospice.
"This all started because Chris wanted to give to the Hospice before he took from it" Cath says.
Together with a small group of volunteer gardeners, Cath and Theo have been working to maintain the Joan Fernie Gardens and Arboretum at Chesterhope, ready for the build of new facility.
"It is special because we are developing something for the future, for the community, and that is a real privilege and pleasure" Cath shares.
This Spring will see the Chesterhope gardens come to life and signify the start of a new journey for Cranford Hospice, as they ask the Hawke's Bay community to join in the efforts to build the new hospice.
Chesterhope Open Days will be held in September and October so the community can experience the idyllic setting of the new hospice. Details will be released shortly.
Your support is crucial for the success of this urgent project. To donate today visit www.cranfordhospice.org.nz
Tags