Delays set back completion of new $700,000 Waimarama Rd cycle trail
by Astrid Austin
Tuesday, Apr 06, 2021 1:30 PM
Challenges in getting subcontractors to site due to a "very buoyant construction and contracting market" has set the completion date of the new Waimarama Road cycle trail back by up to a month, Hastings District Council says.
However, council says the delay is not costing the project due to construction works being under contract and they expect it to be completed within the existing $717,000 budget.
Work began in late January to build the new section of off-road cycle trail, part of the Waimarama Rd Cycle Trail Safety Upgrade project, between Te Mata Road and Craggy Range winery to improve safety for both cyclists and motorists. Originally work was expected to be completed by this month.
A Hastings District Council spokesperson says in this particular instance, the set back has been caused by fencing contractor delays and the need to fence hill sections of the trail prior to placing and compacting limesand to prevent stock damage to the newly constructed trail.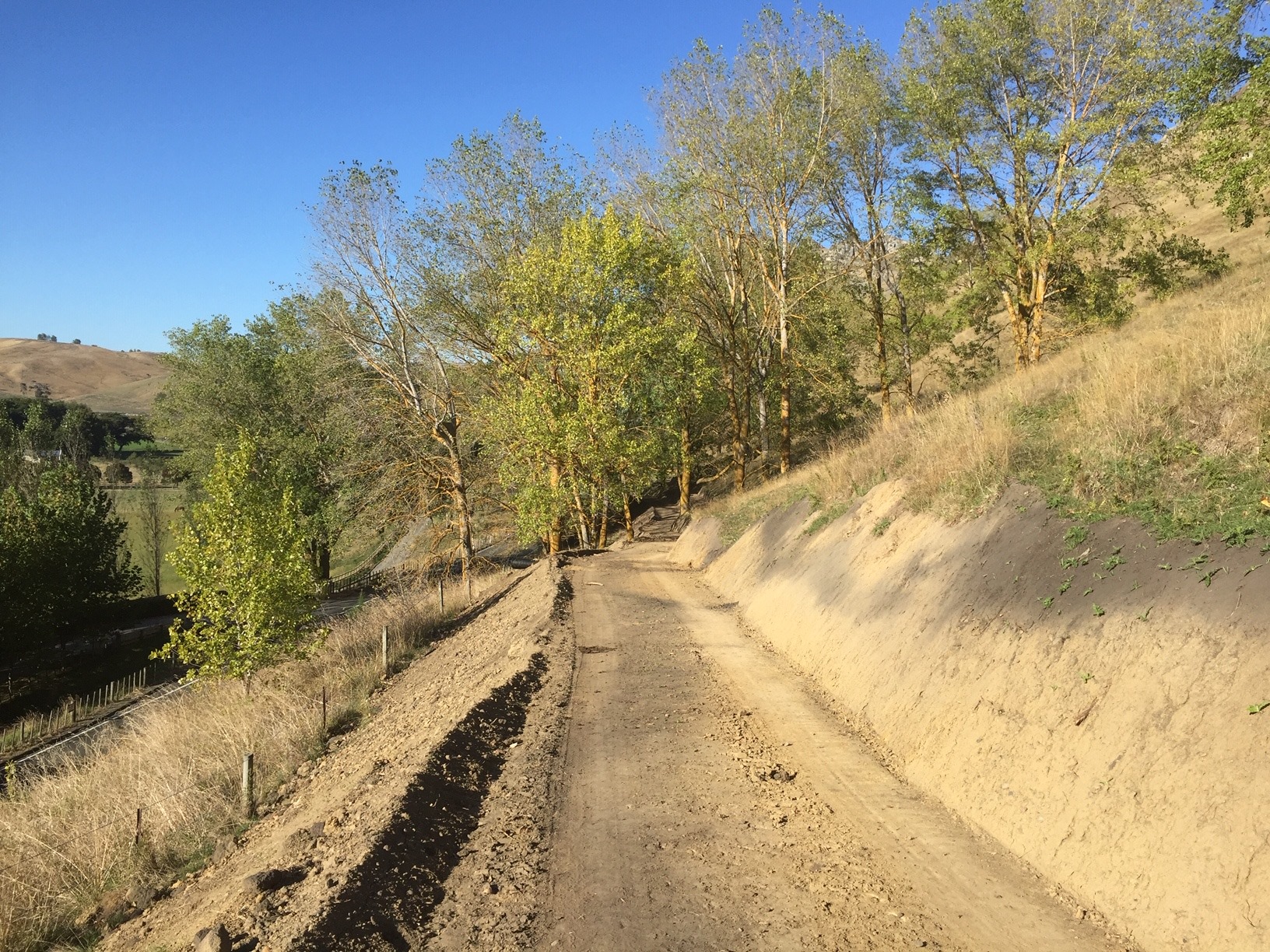 Work is ongoing on the new Waimarama Road Cycle Trail. Photo/Supplied.
"We are confident, subject to inclement weather conditions or unforeseen circumstance, the trail will be completed by mid/late May," the spokesperson said.
Three months into the upgrades, workers have dug out most of the track, and are currently fencing off the steeper sections of the trail to exclude stock from the newly cut track. The next step will involve laying limesand over the hill sections. After Easter, contractors will construct the lower sections of the trail at both ends (Te Mata/Mclean Rd and Craggy Range Road crossing).
The project came about after New Zealand Cycle Trail (NZCT) raised health and safety concerns about the existing trail, located on an 80km (speed limit) road between Te Mata Road and Craggy Range Winery.
Hastings District Council, Hawke's Bay Regional Council, Ministry of Business Innovation and Employment (MBIE) and Eastern and Central Community Trust (ECCT) proposed the new track, as the alternative was removal, the spokesperson said.
This project is jointly funded by MBIE (50 per cent of funding), ECCT (5 per cent), Hastings District Council (32 per cent) and Hawke's Bay Regional Council (13 per cent).
Hastings District Council held hui with mana whenua, in recognition of their role as council's statutory partners, and at a hui-ā-hapū with Te Taiwhenua o Heretaunga in February 2020, the project was endorsed.
In addition, Heritage New Zealand archaeological approval was sought and given, and at times during the project an archaeologist will be onsite when work is being carried out on critical areas, accompanied by a cultural expert as necessary.
Hastings District Council worked with local landowners over the trail alignments and land requirements.
The existing 3km on-road section of the trail is part of the wider 200km Hawke's Bay Trails Landscapes Ride network – one of Aotearoa's 22 Great Rides.
In January, Hastings mayor Sandra Hazlehurst said: "This section of trail has been problematic, used heavily by both motorists and cyclists and this solution will mean everyone is kept safe".
"We wanted to find a way to keep people safe when cycling these trails that take in some of the most magnificent landscape Hawke's Bay has to offer. Given this area is important both culturally and in archaeological terms, we have been discussing the project with interested parties for several months now to ensure everyone is comfortable about the project."
Tags