"Increased support for the here and now", "more needed to address living costs": Response to budget 2022
by Hawke's Bay App
Thursday, May 19, 2022 9:25 PM
The cost-of-living crisis is front and centre in this year's budget, but Hawke's Bay-based financial experts say more could be done.
Low and middle-income New Zealanders struggling with the skyrocketing cost-of-living will receive $350 over three months under Budget 2022, released today.
From August 1, roughly $27 per week will be paid out to an estimated 2.1 million Kiwis who earned less than $70,000 in the last tax year and are not eligible for the Winter Energy Payment.
It will cost $814 million and be enabled through legislation being introduced on Thursday. Inland Revenue is currently in the process of setting it up.
Tukituki MP Anna Lorck says almost everyone in Hawke's Bay will see the impact of Budget 2022 which creates economic security for now and the future, "in which our region has a big part to play".
"We are providing support in the here-and-now for those facing cost of living pressures, while carefully managing our spending and keeping debt under control.
"This targeted support means over 80 per cent of people living in Hawke's Bay aged 18+ will be receiving the Winter Energy Payment or the temporary cost of living payment this year."
The budget also extends the 25 cents a litre fuel tax and road-user charge cut for a further two months, costing $235m. That is being paired with a two-month extension to the half-price public transport scheme at a cost of $132m. Half-price public transport will become permanent for Community Service Card holders.
Lorck says the Government is also tackling the root causes of higher grocery bills by introducing urgent legislation to stop supermarkets from blocking competitors from accessing land to open new stores.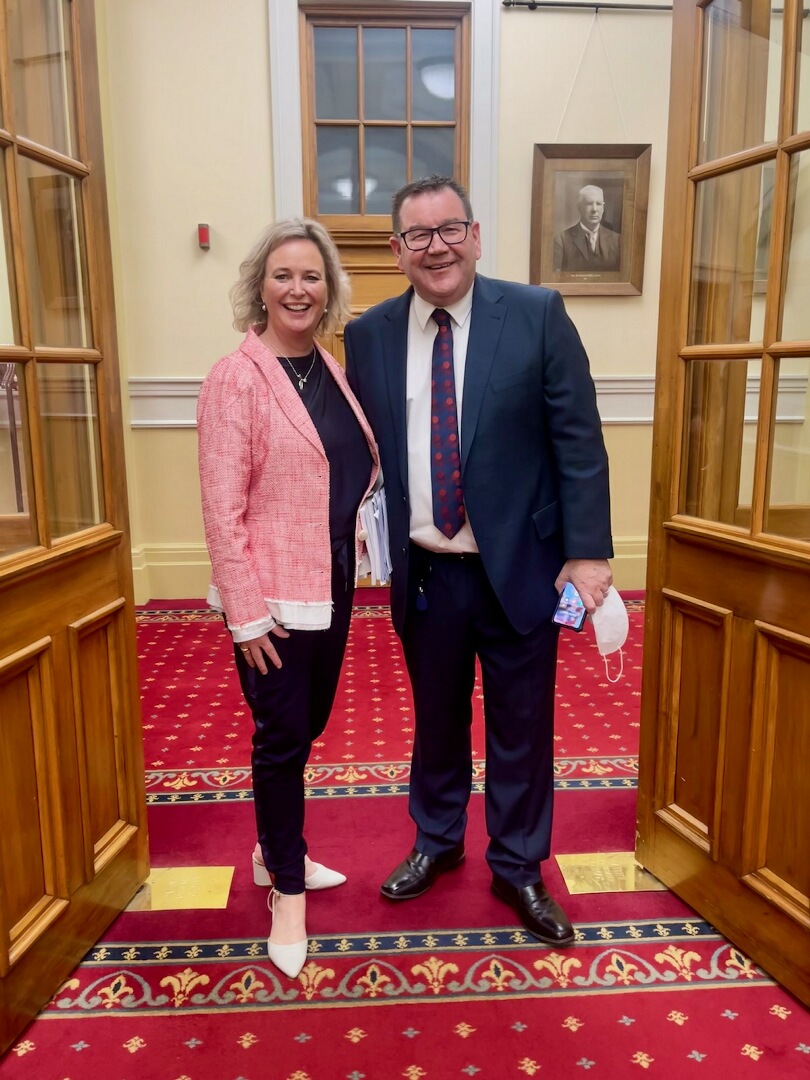 Tukituki MP Anna Lorck with Finance Minister Grant Robertson. Photo/Supplied.
Stewart Group financial advisor and CEO Nick Stewart says the budget "misses the mark", and more should have been done to address living costs.
"A lot of people have major pressures on their family budget every single week with bills, fuel and the cost of groceries. So I think they misread the room with the fact the budget has had such a huge focus on climate change rather than the cost of living and inflation.
"I think people would prefer to focus on the climate when they can meet their day to day budgets and when they can look after their families and put food on their table.
He says the Cost of Living package sees 81 per cent of people in New Zealand "essentially become beneficiaries, rather than a plan to tackle inflation".
"I think the first thing they could have inflation-adjusted our progressive tax settings. So rather than the marginal rate kicking in at $70,000, the Government could have changed it and made it $75,000 because a huge amount of people are captured around the $70,000 mark. They haven't been adjusted for inflation for a long period of time so it is capturing more and more people."
Financial Advice Hawke's Bay Director and certified financial planner, Paul Sewell, says the Government accounts are in good shape and generally, he likes this year's budget.
However, while the low to middle-income earners are being looked after, those in the medium income bracket are hurting as well.
"They are the ones who are missing out in the current budget."
He says the Government tax take has been a lot higher than expected due to unexpectedly strong economic growth.
"People on over $70,000 income miss out on the $350 payment. If you think about their plight, they've got debt, they've got rising interest rates with the bank so it's costing them more to fund their mortgage and they've got less to spend."
He says the purchasing power of people's salary at $70,000 has dropped by $4,900 with inflation rates running at 7 per cent.
Instead, Sewell argues increasing tax brackets could go a long way in helping.
"If it were to go up then they would pay less tax and they would have more in their hands to meet inflation costs and interest rates on their mortgages.
"There's certainly not a lot of savings going on for people who are simply struggling with the day to day expenses, but we have had a couple of years of excess times leading up to this."
Main photo: Finance Minister Grant Robertson with the 2022 Budget. Photo/Getty Images.