Karamū High School students receive Gold Duke of Edinburgh Award
by Hawke's Bay App
Monday, Nov 20, 2023 8:13 PM
Two Karamū High School students have been presented Gold Duke of Edinburgh Hillary Awards at a special ceremony with patron Prince Edward.
Current Deputy Head Student Esta Chaplin, and 2022 Year 13 student Cora Davison attended the Gold Award Presentation Ceremony at Wellington College on Saturday (November 18) with their families and Principal Dionne Thomas, who is also on the Duke of Edinburgh Board.
Esta and Cora say they were honoured to be invited to receive their awards at the ceremony.
The Duke of Edinburgh Award is an internationally renowned programme, now in its 60th year, that first started at Karamū High School in 2011. Now a significant group of students year after year take part. Students start at the Bronze level, move to Silver and the penultimate is the Gold award.
For each award, students are required to do a physical activity, take up a new skill and do voluntary service in the community. They must also complete one training and two outdoor journeys per level, with an additional residential journey at the Gold level.
Several staff are now Award Leaders, and in August Mrs Thomas was appointed as a Member of the New Zealand Board of the Duke of Edinburgh Hillary scheme.
Having had significant experience with the scheme in her previous school, Woodford House, she was well versed with the benefits the scheme could bring to rangatahi in the service, volunteer, and physical activity space.
"Applying to the Board felt like a great fit for my vision of allowing young people to fulfil their vision of being successful members of society."
Mrs Thomas says it is a delight that HRH The Duke of Edinburgh KG GCVO, Global Patron of The Duke of Edinburgh's International Award, was there for the girls to receive their awards that are an accumulation of hours of mahi.
Eighteen-year-old Esta first began the Bronze level in Year 9.
"I remember at my primary school, our caretaker's daughter did it and she got to do so many things from it, and I thought, I'm going to do that. So then when I got to high school, I was reminded of it.
"It's been so good because of how many areas of your life it can impact. It's not just getting the hours, it's also the trips and all the people you meet.
"I've been able to go on Spirit of Adventure, BLAKE Inspire, and then also the school tramping trips and kayaking the Marlborough Sounds. But then also that consistent routine of volunteering which for me was walking an elderly lady's dog each week."
Cora Davison is studying Sustainability at the University of Canterbury. Like Esta, she completed the final stage last year.
She was encouraged by her parents to take it up in Year 10.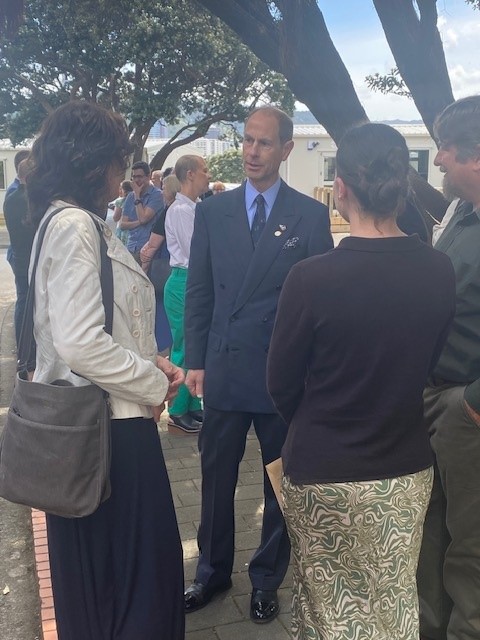 "It was definitely a lot of effort, but it was so worth it. I really enjoyed the trips that we went on. Those were always super special."
She says she couldn't have done it without the support of the school and in particular Award Leader Mrs Kirsty van Rijk.
"Her continual support and just the ends she'll go to, to helping, making sure that you can achieve what you want.
"I would really like to give back, of course, at one stage in my life because it is quite an expensive process and I think it would be so cool to be able to allow more students to do the award."
Cora completed a 21 day residential stay at Outward Bound in Anakiwa for Gold.
"That was insane. I think that was probably my favourite thing I've ever done in my whole life. I learned to much and it gave me a whole new perspective.
"But I also really enjoyed my volunteering, so I volunteered at Orphans Aid Op Shop, and you just meet so many different people with so many different perspectives. It was really eye-opening for me as a young student from a rural community."
She has continued this at University, exploring parts of Canterbury and volunteering for a community garden.
"I recommend that everyone gives it a go. You don't have to do silver and gold, even just trying bronze and seeing if you enjoy it. You get a lot out of it. feel like it just gives you the confidence in your skills to try new things. But like everything, you get as much out of it as you put in."
CAPTION FOR PHOTOS:
PHOTO ONE: Karamū High School Principal Dionne Thomas (middle) with 2022 Year 13 student Cora Davison and current Deputy Head Student Esta Chaplin.
PHOTO TWO: Cora Davison with her parents Helen and Andrew chatting with Prince Edward.
Tags