Support sees Sacred Heart College Waka Ama athletes succeed
by Hawke's Bay App
Wednesday, Jun 30, 2021 8:00 AM
Building Sacred Heart College's Waka Ama team on the foundation of the Māori whakataukī 'Mā te huruhuru, ka rere te manu' has seen its girls blossom both as athletes and individuals.
The whakataukī's literal translation is "with feathers a bird can fly," but for coach and parent Haylee Pearcey, in this instance, it means "with support our children can achieve great things".
And that is exactly what has happened. Three students secured a podium finish in their respective races at the Secondary Schools Waka Ama Regionals, making history for the school by having two champion single paddlers.
While Year 12 Sacred Heart College student Rylee Fergus competed at the Waka Ama Long Distance Nationals 2021 in Picton earlier this year.
Ms Pearcey's daughter Te Amokura Watson came first, and Reed Smith came second in the J16 Girls' division, while Kelly Minehan came first in the J19 Girls' division.
Although all girls qualified for the New Zealand Secondary Schools Waka Ama Nationals at Lake Tikitapu in Rotorua, it was only Te Amokura who competed – her first time as a single not a team.
After a hard first race, she managed to book a place in the Plate semi. During this race, she got a personal best time of 1:28 and secured a spot in the Plate final. In the end, she placed fifth overall.
But her achievements were made even more remarkable given the fact she had severely injured her back just a week prior and had to borrow someone else's waka, cradle, and vehicle to transport to the event.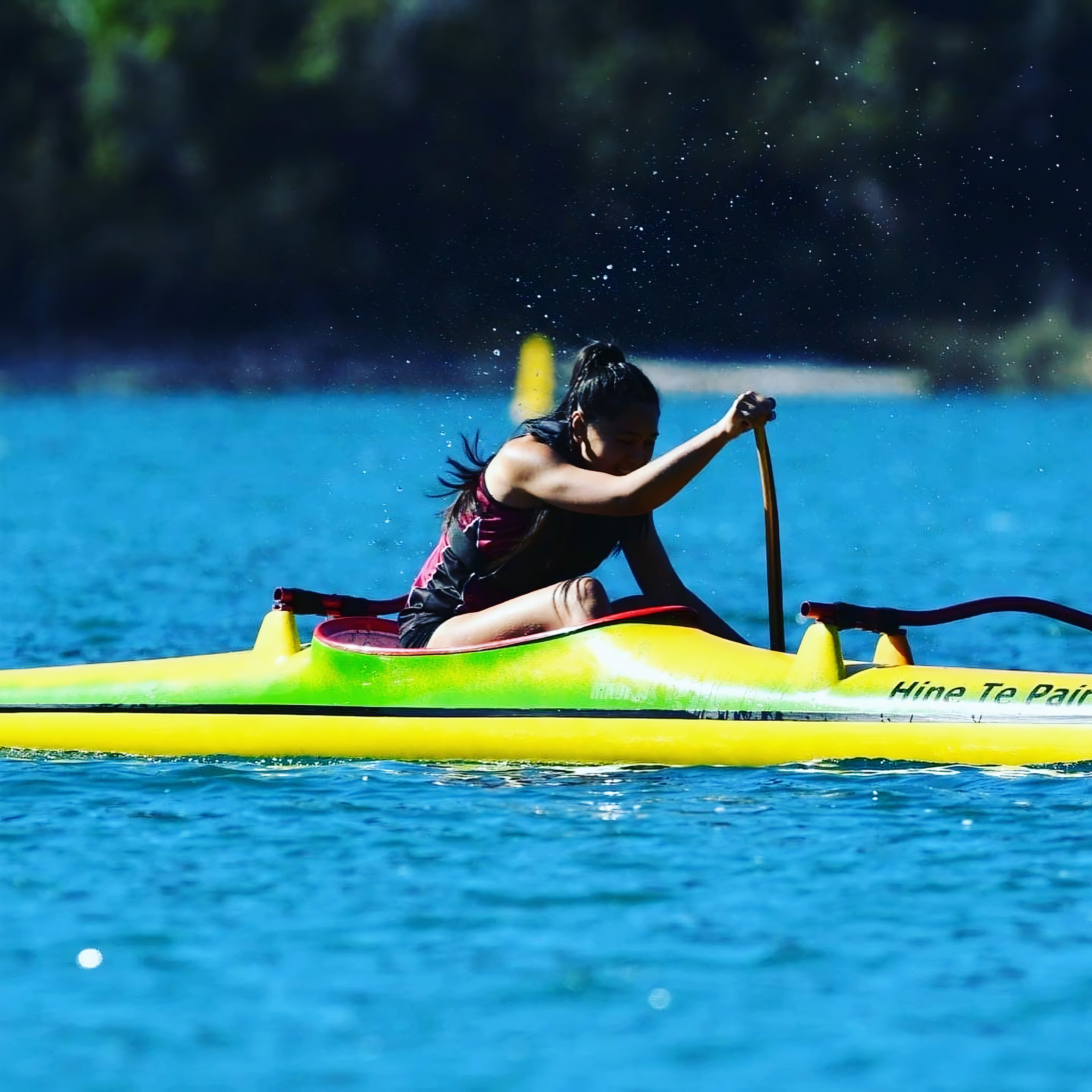 Sacred Heart College student Te Amokura Watson. Photo/Supplied.
"She went from not being able to move, let alone walk, to paddling at the nationals within a week," Ms Pearcey said. "She put everything out there and exceeded our expectations, but we were just saying, imagine if she wasn't injured and was able to train that whole time."
"It was a really positive experience, and it wasn't all about winning, it was just for her to test herself really and how well she could do."
She acknowledges that there were a lot of people behind the scenes that helped to ensure Te Amokura got to paddle at the nationals.
Te Amokura said she felt it was important to go to Nationals as they had put "a lot of hard work" into getting there.
While she did not expect to do as well as she did, she credits her results to her sheer determination.
"I just tried to do as well as I could in each race and critiqued each race as I went," she said.
For Te Amokura Waka Ama has been a part of her life in one way or another since she was little. Her grandparents were instrumental in the founding of the first waka ama club in Napier, Te Rau Oranga
o Ngāti Kahungunu Waka Ama Club, 23 years ago. Both of her parents paddled in the early days and in more recent times, Te Amokura and her brothers have paddled for the club.
The 15-year-old would like to go back to Nationals next year and get a podium finish. They have come a long way from when Ms Pearcey first introduced the sport to the school when her daughter Te Amokura arrived in Year 9 three years ago.
"When we started at Sacred Heart, it was only my daughter who had paddled so the other girls that came along had no idea what it was and they were a bit shy and quiet," Ms Pearcey said. "And by the end of the season they were just so happy, they had all this new knowledge, and they were a lot more confident."
Ms Pearcey says it was particularly evident in one girl who found her "second opportunity" through the sport and has matured into a leader.
Although they have had more interest in the previous years, Ms Pearcey says she felt it was important to provide every opportunity to the girls who wanted to paddle and had turned up to
every training regardless of weather.
While winning is a goal, Ms Pearcey, says it is not everything. "Don't get me wrong, I love to win but for me, the biggest thing is the journey that you take rather than the destination."
"It's all about how the individual learns and develops, and it can change their lives."
They recently helped her run a Waka Ama session with the school's Year 11 Physical Education class.
"They were able to share what they'd learnt over the last couple of years with their peers. So, they could actually see, 'well if she can do it, I can do it', and that was an awesome moment for me to see
the knowledge that I had passed on to them being passed on to their peers."
By the time her daughter leaves in two years' time, she hopes to have been able to have get a set of Waka Ama paddles for the school to add to the life jackets they purchased in her first year.
"When my son left St. John's College, we left them with 12 paddles, a paddle bag, and 12 life jackets so at least if they wanted to continue, which they did, it would be a lot easier.
"So that's one of my goals before my daughter leaves to make sure that the school is left in a better position, than when we arrived in terms of Waka Ama."
For more free local news head to www.hbapp.co.nz
Tags