Taranaki bees land in Hawke's Bay as gift for cyclone-struck hobby beekeepers
by Hawke's Bay App
Friday, Nov 17, 2023 9:27 AM
A million Taranaki bees have landed in Hawke's Bay as a gift to the region's beekeepers who lost their hives during Cyclone Gabrielle.
Taranaki Beekeepers Club Member Francis Proffit made the five-hour journey to Hawke's Bay on Wednesday. In his trailer were the 35 hives and in the back of his ute were extra hive boxes (supers) for honey harvested by the Taranaki bees in their new homes.
Ōtaki Buzz Club beekeepers also donated 26 hives.
About a third of the hives were unloaded without incident in Waipukurau, but in Meeanee bee suits were donned after two hives were found leaking dozens of escapees.
Beekeepers Hawke's Bay Club President Robyn Gichard said the donated bees have lifted spirits.
"We had a terrible wet season last year and then Cyclone Gabrielle completely washed away so many hives.
"Some of our members were completely despondent, with no bees and no gear, and the club had to figure out how to pay for two flooded motors at our extraction plant. It's been hard going. But then we got two wonderful phone calls from the Taranaki Beekeepers Club and Otaki Buzz Club.
"So now club members that lost hives can now start up their hobby again."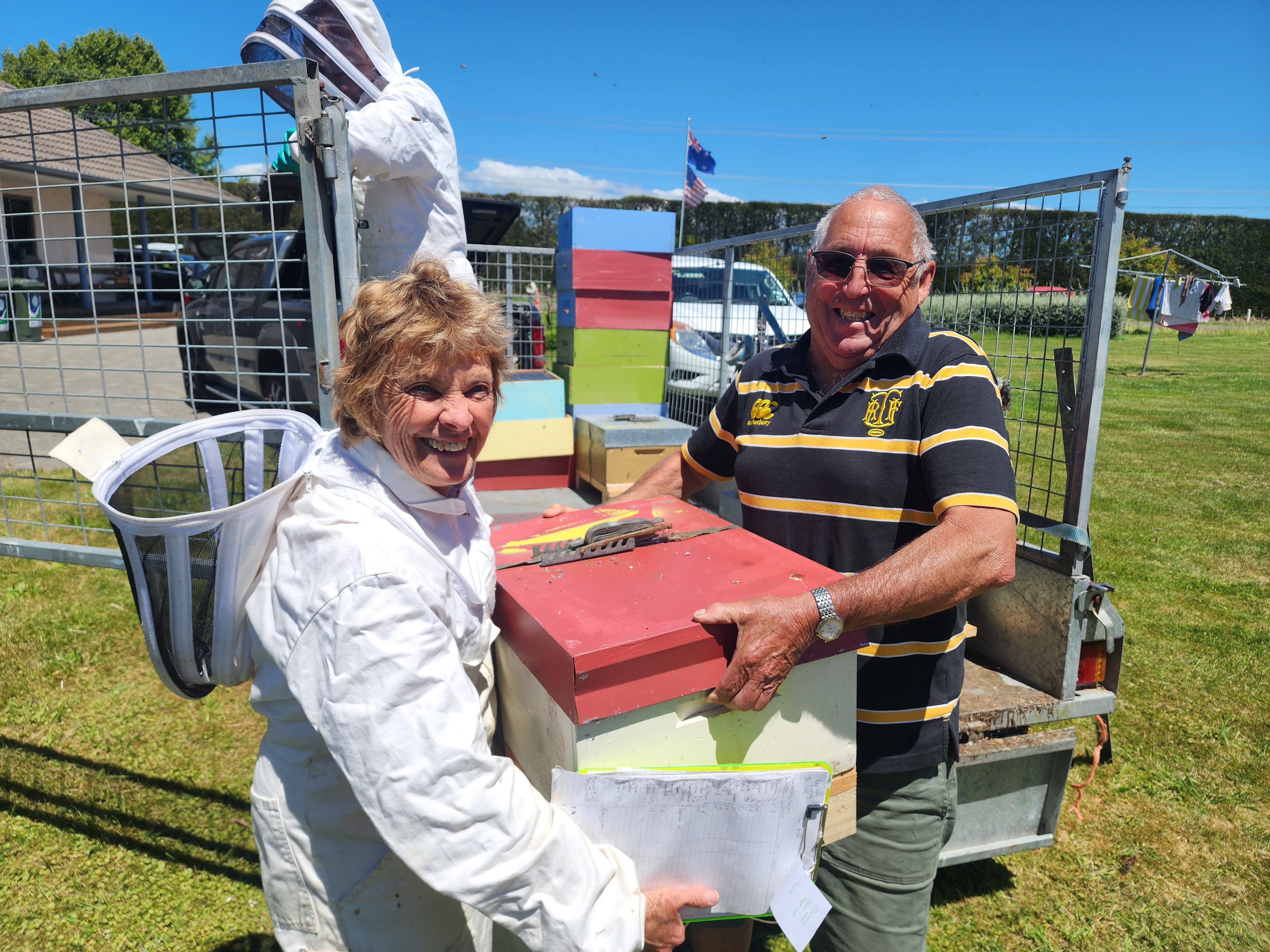 Beekeepers Hawke's Bay club president Robyn Gichard (left) unloads donated beehives with Taranaki Beekeepers Club member Francis Proffit.
The Otaki and Taranaki clubs sprang into action when they heard of the cyclone damage in February, fundraising and holding (human) working bees to wax frames and assemble dozens of hives for Hawke's Bay.
Gichard said the Otaki and Taranaki beekeepers have likely weakened their own apiaries by splitting and giving away so many of their hives.
"They have been so kind, so generous, and easy to work with. They have donated hives and equipment worth tens of thousands of dollars.
"It will benefit so many hobby beekeepers, the hives going from Dannevirke to Gisborne. It's a great start to the season."
Proffit, a fourth-generation beekeeper, said the hives have vented floors to prevent overheating during the long journey.
"Hawke's Bay beekeepers have lost so many hives - some are still digging them out of the mud - so we have donated hive boxes and frames as well."
He says the new hives will start producing soon, so they'll be able to harvest their honey.
"Hopefully that will get local beekeepers back on their feet and they can split these hives to make more."
Tags