Francois Sneedon captures over-55 surf title at NZ Nationals
by Hayley Osterfield
Tuesday, Jan 18, 2022 4:23 PM
The New Zealand National Surfing Championships were staged in Westport, Jan 11-15 this year, the second time the event has been held on the West Coast of the South Island, the first being 20 years ago.
Hawke's Bay avid surfer, Francois Sneedon (pictured centre) cruised to victory in the over 55 category in only his second attempt at the national competition - last year he placed third in Piha.
Sneedon said that he was "stoked to be national champ and put HB Boardrider on the map."
He says winning means he is doing all the right things - "eating well, staying healthy, having a focus and that's some of the most important things heading into your senior years".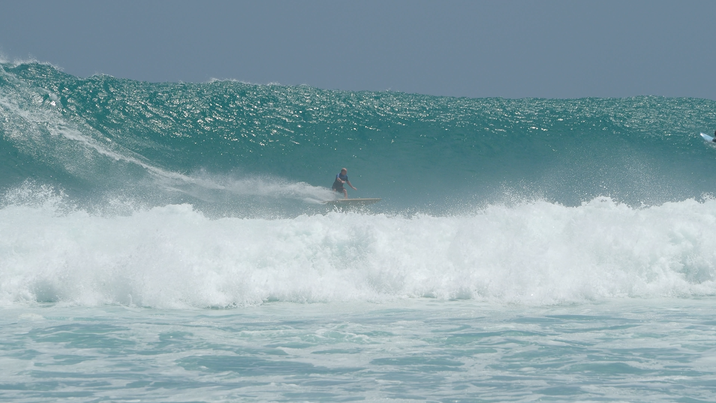 Francois Sneedon in action off Rote Island, Indonesia.
This year's competition started in Tauranga Bay. Sneedon was forced to perform in challenging conditions and tricky surf. He managed to get through his first round by getting three turns on a good wave at the last minute.
The final day was moved to Nine Mile Beach due to winds. Sneedon start off with a bang, scoring at 7.5 on the hooter which put the others under immense pressure. That score turned out to be the highest of the heat. He backed that high score up with three more waves, putting the win out of reach for the remaining surfers.
"By that stage, I was having fun" Sneedon commented. "It was exciting being there, exploring the new breaks."
Francois has been surfing for 45 years. "I started when I was around 12 years of age, in South Africa, and I am fortunate to have surfed and survived empty shark infested waters"
He then moved to New Zealand in 2001.
He is the current president of the Hawke's Bay boardriders, an initiative that he created two years ago. "It's been a good ride, and the club is pretty strong now at about 80 members. We run three club rounds each year competing against Mahia and Gisborne in the interclub."
Francois Sneedon also has a passion for passing on his immense surfing prowesses and nurturing young 'grommets' to be able to compete at a national level. One such student is Hawke's Bay local Dale Cromhout, who competed at nationals in the under 16 category and placed fourth.