Co-captain excited about Bay United's depth
by Shane Hurndell
Friday, Nov 13, 2020 8:01 AM
Experienced Hawke's Bay United football defender Fergus Neil admits he didn't expect a co-captaincy role this summer.

"But it's a role I'm happy to step into," Neil said during the countdown to Thirsty Whale Hawe's Bay United's New Zealand Championship opener against Hamilton Wanderers at Napier's Bluewater Stadium from 2pm on Sunday.

Looking at the depth within the squad it's easy to see why.

"Top four is the minimum for us this season. We would like to go further," said Neil who will co-captain the team with fellow Napier City Rovers defender James Hoyle.

Neil, 28, who first played for United during the 2009-10 summer while still at Napier Boys' High School pointed out that while it has been difficult to recruit players from overseas in the wake of the Covid-19 pandemic his club had recruited well from teams throughout the country and there is a good mixture of youth and experience within the squad.

He is impressed with English striker Kailan Gould who scored 25 goals and for Wainuiomata and won the Golden Boot award in the Capital Premiership earlier this year.

A Years 3-6 relief teacher at Porritt School, Neil, is expecting big things from the North Wellington trio of striker Jesse Randall and midfielders Cory Vickers and Ahmad Othman and Wairarapa's French midfielder Hugo Delhommelle.

"When you add our director of football and goal keeping coach Jonathan Gould to the coaching mix we are in a pretty good place," Neil explained.

"There are no areas of concern within the team. We just have to keep forming positive relationships. We have to enjoy each other's company, enjoy training and being together and we will get better collectively," Neil said.

He tasted Premiership glory when he played for Team Wellington during the 2015-16 summer. Neil has also played in two semifinals with Hawke's Bay United including his 100th appearance a couple of summers ago.

If anybody deserves a Premiership title with Hawke''s Bay United it's this bloke who is predicting a tough encounter on Sunday.

Hawke's Bay United co-coach Bill Robertson (pictured right below) said he and fellow co-coach Chris Greatholder (pictured left below) are also pleased with the depth within their squad.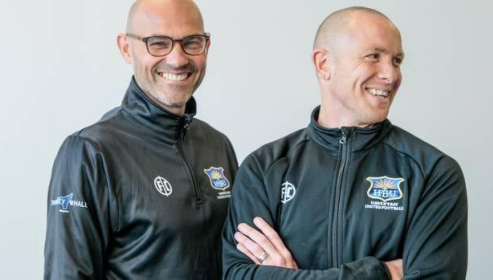 "While we have recruited some promising players from within the region which is part of our philosophy to give them opportunities we have also recruited some good players from outside of the region," Robertson explained.

"Making the top four is the overall goal but at the same time we want to create opportunities for our local players," Robertson said.

The top four teams after the home and away round robin fixtures in the eight-team ISPS Handa Premiership will qualify for the semifinals. Robertson pointed out this week's flooding in Napier didn't impact on the team's trainings.

"We had our normal gym session on Monday night. Tuesday night we were back out on the grass, Wednesday night was another gym session and last night and tonight we are on the grass again.

"I know there have been drainage issues with Bluewater Stadium in the past but it should right on Sunday," Robertson said.

Hawke's Bay United's pre-season programme included two inter-squad games and a 5-4 victory against Team Wellington in Palmerston North last weekend.

"We led 4-1 at halftime and then 5-1 just after halftime before both teams made lots of changes. It was quite exciting," Robertson added.

The full Hawke's Bay United squad for the season is:
Scott Morris, James Hoyle (co-captain), Jackson Woods, Kaeden Atkins, Cory Vickers, Hugo Delhommelle, Jesse Randall, Karan Mandair, Gavin Hoy, Kailan Gould, Sam Pickering, Ahmad Othman, Cameron Emerson, James Mack, Fergus Neil (co-captain), Sam Wall, Zac Madsen, Bill Robertson, Oscar Mason, Jarrod Mckenchie, Jorge Akers.