Bay boxer makes golden exit from cadet ranks
by Shane Hurndell
Monday, Jan 25, 2021 9:23 PM
Hawke's Bay's Jett Varcoe celebrated his last year as a cadet fighter in style at the New Zealand Boxing Championships in Porirua last week.

The Hastings Giants Boxing Academy fighter won all three of his bouts to capture the 44kg class title. He was one of 34 male cadet boxers at the champs which attracted 143 athletes and he also captured the trophy for the Best Cadet Boxer of the tournament.

The fact it was the 14-year-old Lindisfarne College Year 10 student's first nationals added to the significance of his feats.

"I was supposed to go to the 2019 nationals but I broke my leg playing rugby," Varcoe recalled.

"These were the 2020 nationals which were postponed from October because of the Covid-19 pandemic. This year's nationals are scheduled for October in Whanganui," Varcoe explained.

All three of his bouts were won by unanimous decisions. Superior hand speed and tactics against a slightly taller Canterbury opponent saw Varcoe win his first bout.

Varcoe, who has been boxing since he was 8, was too strong for his Manawatu opponent in his second bout. His third opponent was also from Manawatu and he was the first southpaw Varcoe had faced.

After studying his opponent's previous bout Varcoe saw a gaping hole which he was able to exploit to perfection and the referee stopped the contest in the third round.

"Jett has the ability to change strategy and tactics to suit different opponents which is crucial in a tournament setting. This will put him in good stead for further representation when the opportunities arise," Giants trainer Craig McDougall explained.

"Because of Covid and the delay we had to train through the Christmas break which meant Christmas was pretty lean. But it all paid off and Craig did an awesome job with our whole team. The life skills and discipline he passes on will help us in life later on ... it's a privilege to be involved with Craig," Varcoe said.

McDougall's son Hadley was also competing at his first nationals and he won the 66kg class title. The 14-year-old Lindisfarne College Year 11 student beat a Manawatu opponent in his semifinal by a unanimous decision.

McDougall also fought a southpaw for the first time when he beat a Canterbury opponent in his final.

Fellow Giant, Alex Coull (pictured below right with Varcoe and McDougall), won silver in the 54kg class. The 13-year-old St John's College Year 10 student is the only one of the trio who will have one more nationals as a cadet.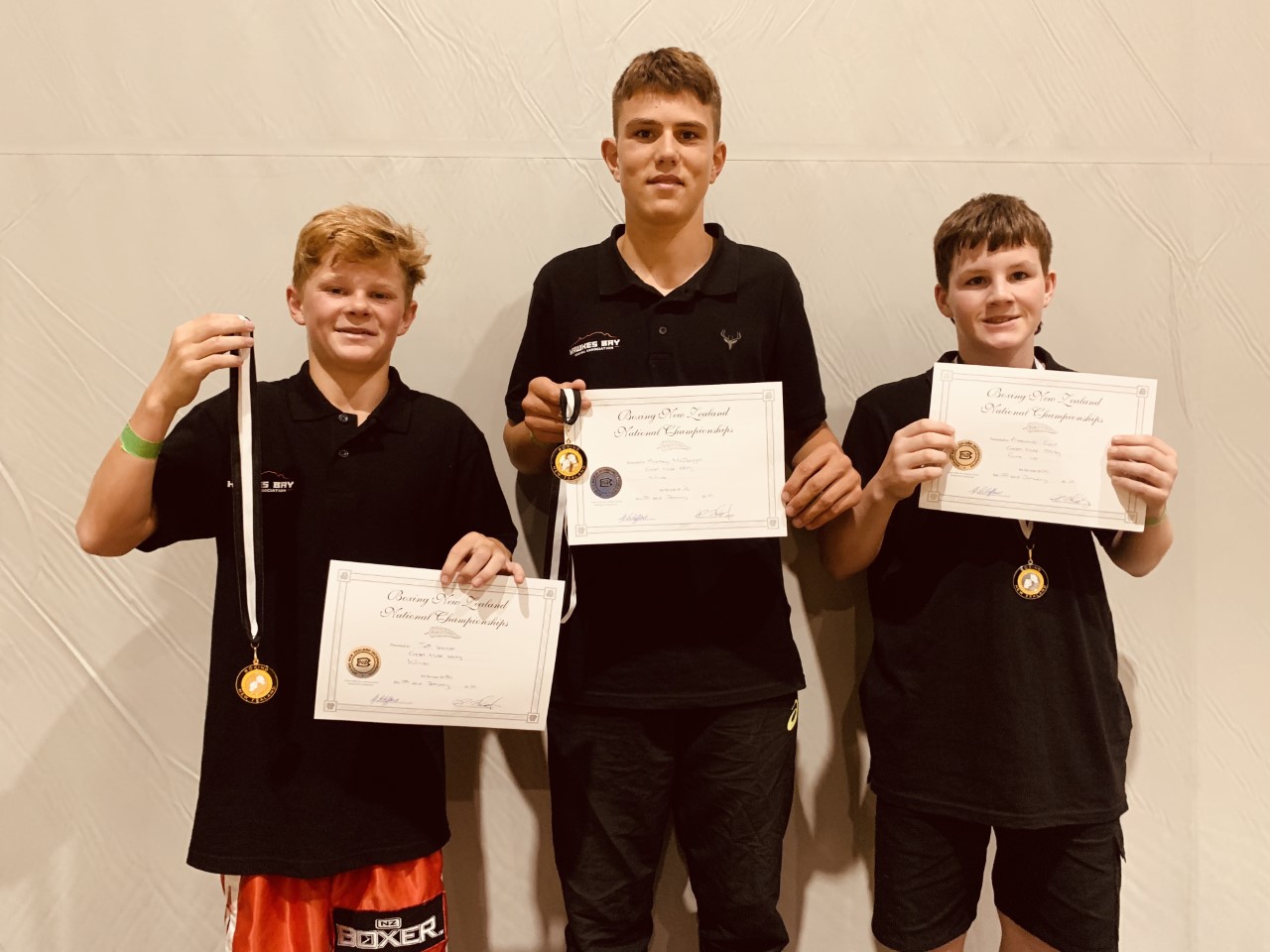 Coull had not fought since the 2019 nationals 15 months ago, when he returned home with a title, and he sustained a shoulder injury while sparring in Taupo three weeks ago. He beat a Manawatu opponent in his semifinal and he lost to an aggressive Canterbury southpaw in his final.