Aquahawks clubmates capture respective Ocean Swim titles
by Shane Hurndell
Saturday, Feb 20, 2021 2:58 PM
Hawke's Bay swimmer Jayden Wilson's relaxed approach paid off when he won the open men's 2.5km title in today's Napier Port Ocean Swim.
"I didn't expect to win it and I was pretty relaxed about it. But I managed to get out first at the start, lead all the way and take it out," 16-year-old Wilson said before a celebratory feed of waffles and ice cream.
The Napier Aquahawks Swimming Club member's winning time was 27m14s. It was the first time he won the title and he finished second when the event was previously held in 2019.
"It was easy to swim in those flat conditions," Wilson (pictured above photos Chris Kiely )explained.
The Hastings Boys' High School Year 12 student, Taradale High School's Caleb Carlisle and Napier Boys' High School's Art Woodley-Hanan were in the Higgins Harpoons team which won the open men's title. Wilson's next major swimming event will be the Wellington-hosted national age group championships in April where he will be focusing on the 400 and 200m freestyle evets.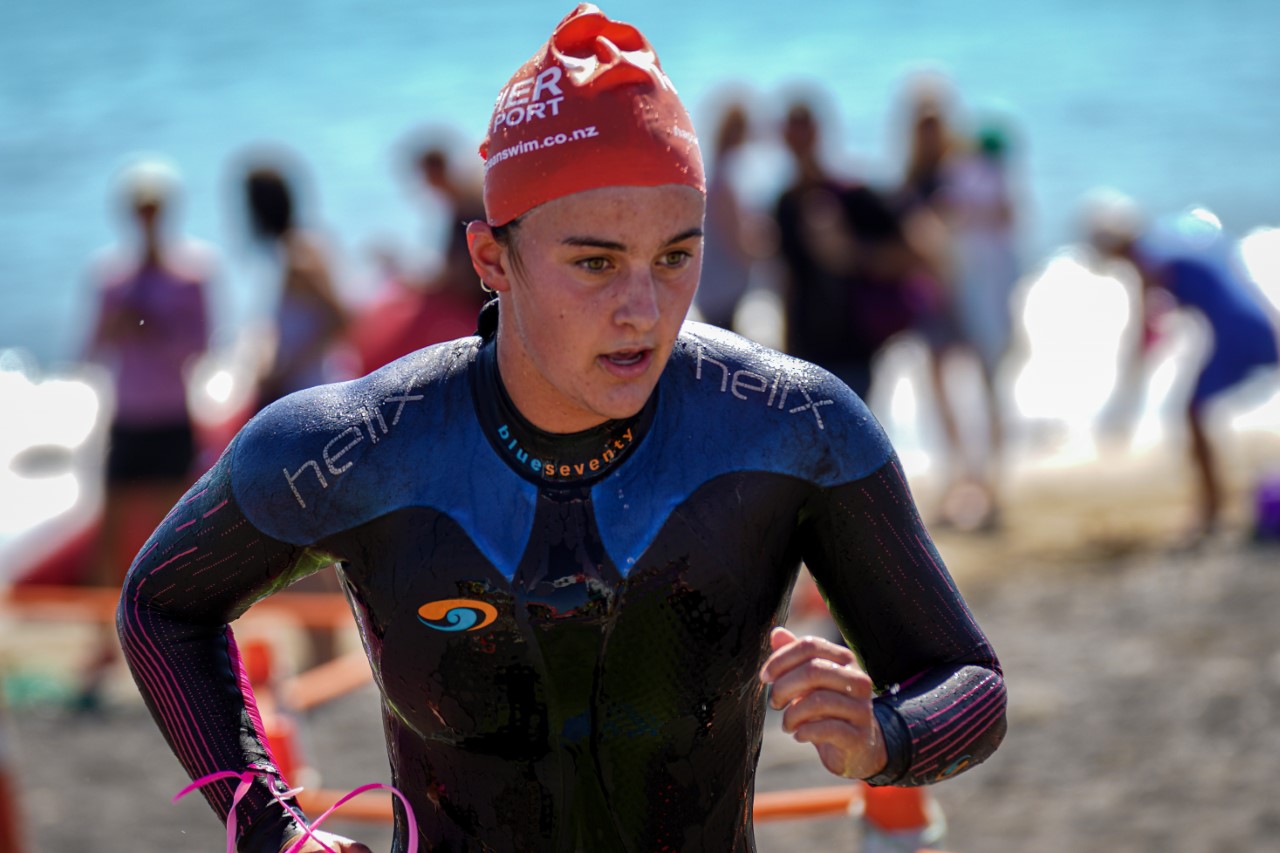 Wilson's Napier Aquahawks clubmate, Sarah Birkett (pictured above), won the open women's title with a time of 28m50s.
Hot favourite in the women's 30-39 years age group, Hawke's Bay's multiple world champion surf lifesaver Nikki Lawson, won the title with a time of 31m02s. Her training partner Michelle Fritchley won the women's 40-49 years age group with a time of 30m37s.
Lawson, Fritchley and men's 50-59 years age group winner, Steve McKain, were in the 6am crew team which won the mixed team category.
Event organiser Trevor Adsett said today's event which attracted more than 200 swimmers was one of the best in its 10-year history.
"The flat seas and ideal weather conditions certainly helped. Half of the field was in the 2.5km race but there were also good numbers in the 1km and 500m events," Adsett said.
A 200m kids classic was also staged.
"Everyone finished their respective courses which was great. I must also thank the Tri HB crew for their assistance too," Adsett added.
Tags