Hastings Rugby and Sports favourites for Nash Cup final
by Shane Hurndell
Sunday, May 02, 2021 6:00 AM
Hastings Rugby and Sports today enhanced their favourite's tag for next Saturday's Nash Cup final in Hawke's Bay's premier club competition.
After leading 22-0 at halftime in their Elwood Park fifth-round clash against Clive Rugby and Sports, Hastings, went off the boil in the second half and cruised to a 34-17 victory. The only unbeaten team in the comp, Hastings, will take on Taradale Rugby and Sports in next weekend's final.
Nineteen-year-old hooker Matt Wilson produced a player-of-the-match performance for Hastings in his first starting XV appearance. Openside flanker Fale Matamata and lock Joe Taafa also had huge work rates in the winning pack and winger Tommy Agnew, who scored two tries, was the best of the backs.
Hastings manager James Rosenberg said referee Sheldon Eden-Whaitiri had a memorable 200th premier game.
"Sheldon let the game flow and didn't give out any cards when there were a couple of occasions when he could have."
Nick Biss, who had shifts at fullback and centre, was outstanding for Clive. Tighthead prop Zac Southwick and hooker Jacob Dorward were influential figures in the visiting pack.
Scorers:
Hastings Rugby and Sports 34 (Tommy Agnew 2, Jacob Devery, Jessie Lesa-Sipaia, Joe Taafa, Danya Tulou tries; Connor McLeod, Danny Toala cons), Clive Rugby and Sports 17 (Nick Biss, Lolagni Visinia, Donovan Mataira tries; Visinia con). HT: 22-0.
NOBM 55 MAC 33
Hosts MAC were competitive with Napier Old Boys Marist for the first 55 minutes of this Flaxmere Park encounter.
"We trailed 17-12 at halftime and there were two occasions when the score was tied ... 12-all and 19-12," MAC manager Anthony Morley explained.
"We were weak defensively out wide and the likes of Jonty Stewart and Johnny Ioane read that space well," Morley said.
"We received two yellow cards and when Everard Reid was in the bin we conceded 14 points."
Tighthead prop Paula Latu (pictured above, photos Chris Kiely) was again powerful for MAC. Halfback Johnny Ika was the hosts player-of-the-day and midfielder Sakopo Ofa, who scored two tries, also shone in the MAC backline.
NOBM coach Ellery Wilson was rapt with how Stewart and Lauano performed in both the first five-eighth and fullback positions as they had 40 minutes in each. Loosies Hannon Brighouse and Paul Lapa were workaholics in the winning pack.
NOBM ran in nine tries including the one below to winger Michael Buckley.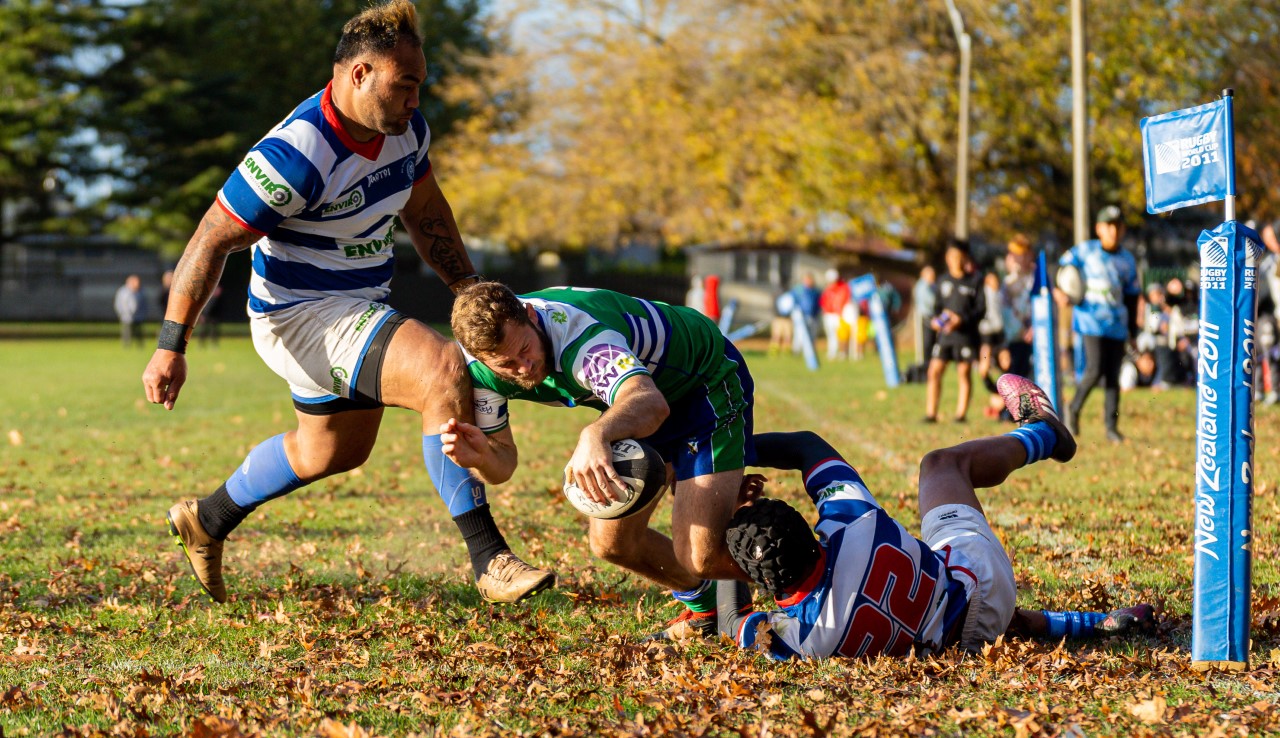 Scorers:
Napier Old Boys Marist 55 (Logan Ede 2, Zac Donaldson, Jonty Stewart, Johnny Lauano, James Holbrook, Pouvi Fatialofa, Michael Buckley, Ryan Lyndesque tries; Bain Champion 3, Stewart 2 cons), MAC 33 (Sakopo Ofa 2, Johnny Ika, Jackson Waerea, Amiga Mikaele tries; Zedekiah Awa 4 cons). HT: 17-12.

CENTRAL 30 TECH 24
Central Rugby and Sports gave loosie Warwick Slingsby a winning 250th appearance with this victory at Central Park.
The match had an earlier kick-off time of 2pm to allow the Central players to do some evening duck shooting. They led 17-12 at halftime.
Centre Joeli Rauca was lethal on attack and also displayed some handy goalkicking skills with two penalties and a conversion. Centurion Tom Beachen fed his backline well from halfback and Hurricanes under-20s representative Frank Lochore was a workaholic at openside flanker.
Texans manager Cyril Whitburn said the visitors took the opportunity to rest several key players so they could freshen up before the Maddison Trophy round. Under those circumstances, they were thrilled to push their hosts so close.
Openside flanker Oliver Larbi was Tech's player-of-the-match. Tighthead prop Tere Joel was also prominent in the pack while halfback Scott Mogford was the best of the backs.
Scorers:
Central Rugby and Sports 30 (Max Fryatt, William Gunson, Frank Lochore, Brayden Hardwidge tries; Joeli Rauca 2 pens, con; Hardwidge con ), Napier Technical 24 (Kyle Corneilsson, Oliver Larbi, Xavier McCorkindale, Cruz Davies tries; Ben Lewis, Leighton Shaw cons). HT: 17-12.

TARADALE 50 HAVELOCK 24
Lock Josh Eden-Whaitiri produced a player-of-the-match display for Taradale Rugby and Sports in this win at the Tareha Recreation Reserve.
The brother of referee Sheldon impressed with his lineout work and kick-off receptions. Fellow lock Lolani Faleiva and loosie Liam Rowlands also shone in the Taradale pack.
Halfback Humphrey Sheild and centre Hemaua Samasoni were classy in the winning backline.
Havelock North coach Richard Kinnear said his troops learnt plenty during the match.
"We made mistakes which you can't afford to against a team like Taradale. But we didn't embarrass ourselves and produced a good first 25 minutes."
Openside flanker Nick Hutton and No 8 Will McGoon, until he retired injured, were tireless in the villagers pack. Centre Jessie Paewai was busy in the Havelock backline.
Scorers:
Taradale Rugby and Sports 50 (Iakopo Mapu 2, Humphrey Sheild 2, Liam Rowlands, Gene Syminton, Brad Truesdale, Bonny Litera tries; Truesdale 3, Cam Robinson 2 cons), Havelock North 24 (Jone Tuidraki 2, Caleb Harmer, Jessie Paewai tries; Trinity Spooner-Neera 2 cons). HT: 31-12.

TAMATEA 44 PIRATE 14
Tamatea Rugby and Sports scored three tries during the first 10 minutes of this Bill Mathewson Park encounter.
"From then on we were in catch-up mode and in the second half we couldn't get any momentum," Napier Pirate Rugby and Sports assistant coach Spencer Bethell explained.
Winger Elijah Mataira made the most of his opportunities in the winning backline and deserved his two tries. Lock Dan Paku and No 8 Ivan Bellamy were inspirational in the Tamatea pack.
Busy No 8 Hugh Taylor and hooker Tayla Debenham provided plenty of grunt to the Pirate pack while first five-eighth Zion Clarke had his best game of the season.
Scorers:
Tamatea Rugby and Sports 44 (Elijah Mataira 2, Manahi Goulton, Donovan Godinet, Ash Robinson, Jarome Mareikura, Mataeus Marsh tries; Lincoln McClutchie 2, Tane Cooper cons; McClutchie pen), Napier Pirate Rugby and Sports 14 (Raun Makirere-Haerewa, Hugh Taylor tries; Paora Manuel-Harman 2 cons). HT: 22-7.