Manager claims Hawkeyes hard done by in Palmy
by Shane Hurndell
Monday, Feb 08, 2021 5:29 PM
Hawke's Bay Hawkeyes superstock team manager Mike McLachlan claims his team was on the harsh end of referees calls at the ENZED Teams Champs in Palmerston North at the weekend.
The defending champions at the most prestigious event on the Speedway New Zealand calendar, the Hawkeyes, finished eighth. They started their campaign with a convincing 150-45 victory against the Manawatu Mustangs on Saturday night.
Hayden Hart, who was representing the Hawkeyes (pictured above, Photo by Le Pro Photography) for the first time in Palmy, won the race and Quinn Ryan was second despite collecting a solid hit from Ron Tye.
Ryan won the next race for the Hawkeyes on the track against the Auckland Allstars but was relegated two places, giving the victory to Aucklander Cody McKee. Ryan (pictured below, photo Go Slideways TV) was taken to the infield at the end of the grandstand straight at Manawatu's Arena.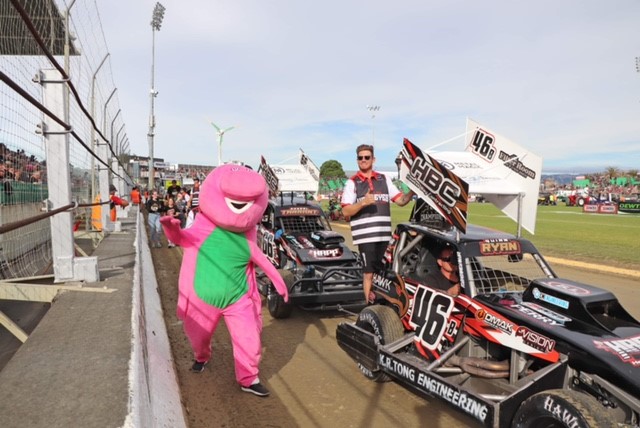 Instead of completing a circle before re-entering the track, Ryan, barged back on.
"That was quite a minor incident compared to ones which weren't being ruled on but we got penalised. That ruling cost us big time," McLachlan said.
"The referees were so inconsistent and we were on the harsh end," McLachlan said.
In their only outing on Sunday night the Hawkeyes were beaten 135-60 by the Gisborne Giants. The Hawkeyes lost the services of Quintin Butcher in this race and McLachlan's car was badly damaged in the race against the Mustangs and this was the end of his campaign on the track.
"It will be touch and go if I can get the car ready in time for Auckland on March 13," McLachlan said referring to the National Teams Champs where the Hawkeyes will also be the defending champions.
"But at this stage all of the boys who were in Palmy are available for Auckland. We have to rebuild, learn from our mistakes and come back harder and stronger," McLachlan explained.
"On behalf of the team I would like to thank all our magnificent sponsors and our frenetic supporters who again backed us till the end in Palmy," McLachlan added.
The Rotorua Rebels beat the Canterbury Glen Eagles 150-45 in the final. The Rebels last won the title in 1986.
Glen Eagles driver Jayden Ward won the Spike Richardson Trophy for the most outstanding driver of the champs.
The Hawkeyes sponsors for this season are: HB Contracting, Filter Room, Bay Tyres, Speedy Signs, Hawk Packaging, Vision Designs, Perry Metal Protection, Patangata Tavern, HRPP, Metal Magic, BJ's Bakery & Cafe, Super Shoppe Hastings, Flushed Drainage, DMAK, M.A.C. Motors, Meeanee Speedway, First Commercials, K R Tong Engineering, Rooftech HB Ltd, Efficient Moving & Storage, S W Bartholomew Plumbing, Loveridge Auto Electrical, Alexander Electrical.
Tags