Meeanee Maulers fail to gel in capital
by Shane Hurndell
Sunday, Feb 21, 2021 1:43 PM
Meeanee Maulers manager Andrew Powell was in apologising mode after the weekend's national teams stockcar championship in Wellington.
His team travelled south with the aim of winning the two-night, 12-team championship. The Maulers lost all four of their races and finished eighth.
"I'm sorry I haven't got more positive news. While luck wasn't on our side the team didn't quite gel on this trip," Powell said.
"We're very disappointed for our club because of the effort which went into our team. The drivers are definitely feeling it. There was good support in the background ... we had good engineering, good equipment, good sponsors, good cars and good drivers but it didn't come together," Powell explained.
In their first race on Friday night the Maulers lost 100-95 to the Rotorua Rascals. Despite allowing one Rascals driver to get away the Maulers produced a good team effort.
In their second race the Maulers were walloped 150-45 by the Waikato Raiders who were unbeaten all weekend and won the title.
"The Raiders had a couple of good block men and were clinical all weekend," Powell said.
Last night the Maulers were beaten by Stratford and Whanganui. Tyler Walker got the win for Stratford and the Maulers best driver of the weekend, Regan Penn (pictured above) got second.
Penn did well to get second against Stratford after collecting plenty of front-end damage and steering issues with a good shot on one of the Stormers.
Against Whanganui the Maulers started with four cars, one more than their opponents but when Daniel Melling and Brandon Symes collected steering damage early on Whanganui were able to capitalise.
Palmerston North Pumas finished second and the Wellington Young Guns third.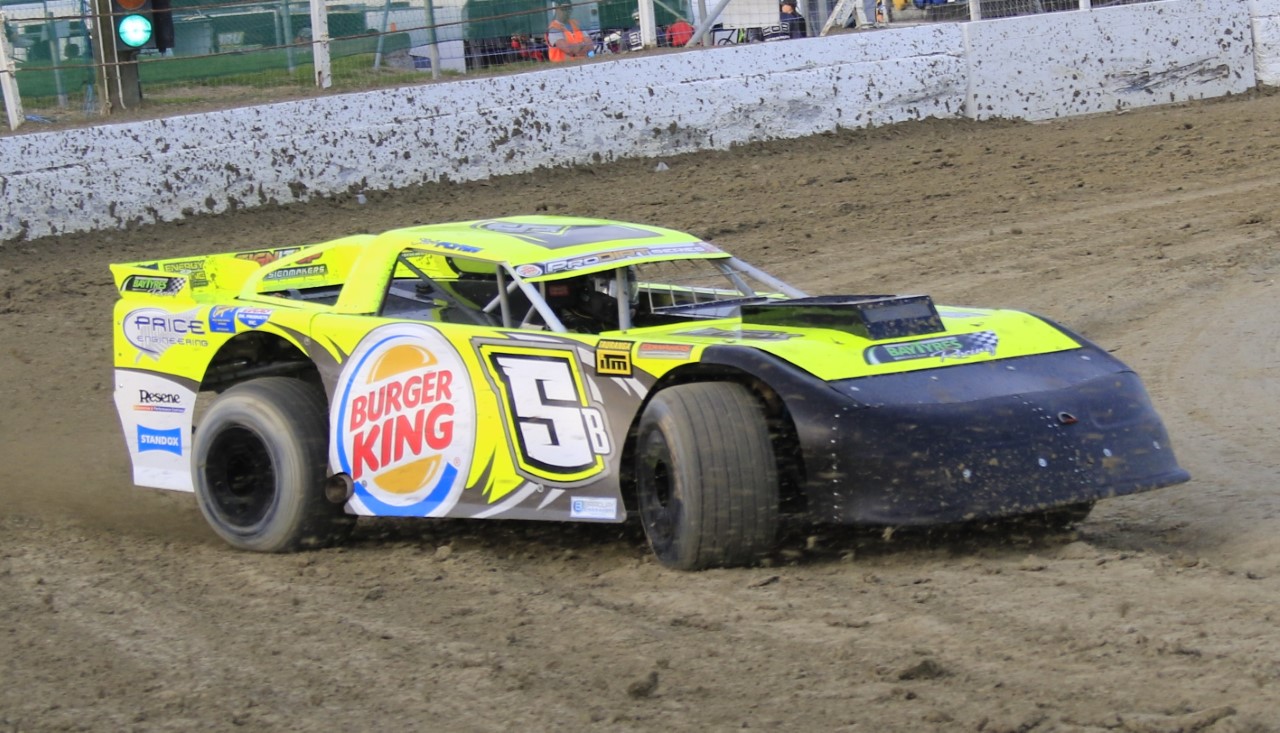 Hawke's Bay's two-time national super saloon class champion Steve Flynn (pictured above, photo John Faulkner) won the Wellington championship for the class. This championship was staged as a support event for the national stockcar teams championship.
Flynn's nephew, Jakob Flynn, was second in the 12-car championship. Jakob was racing his father Grant's car and it will be interesting to see if he gets the car for next weekend's Hawke's Bay championship at Meeanee.
This championship and the East Coast stockcar championship will be the feature events at next weekend's Meeanee meeting.
Tags