Bay footballer selected for NZF coaching mentorship
by Shane Hurndell
Sunday, Mar 07, 2021 2:44 PM
Hawke's Bay's Aleesha Heywood is the sole Central Region coach selected for New Zealand Football's 2021 Female Coach Mentorship Programme.
The nine participants receive 12 months of mentoring from three of New Zealand's top female coaches - Natalie Lawrence, Maia Vink and Gemma Lewis as well as Football Ferns head coach Tom Sermanni. Lewis is the Future Ferns Domestic Programme manager and New Zealand U20s head coach, Vink is Capital Football's head coach and women's and girl's development officer and Lawrence is the FFDP assistant manager and NZ U20s head coach.
"It's a great opportunity to be selected. I look forward to bring back what I learn to our Central Football community as well as my Taradale club," Central Football community development officer Heywood (pictured above) said.
The 30-year-old Taradale Federation League team's player-coach sees the selection as another step towards her long-term goal of a coaching role with a national side. Whenever a New Zealand Football Ferns, U20s or U17s team is selected it must have a female on the coaching staff.
An OFC/NZF C License holder, Heywood (pictured below playing for her Taradale club), is working towards her B License and hopes to have it early next year and this will make her eligible for the national team coaching roles. During the programme, she will attend a national camp in Auckland and one of the three mentors will also spend time with Heywood when she is coaching in the Bay.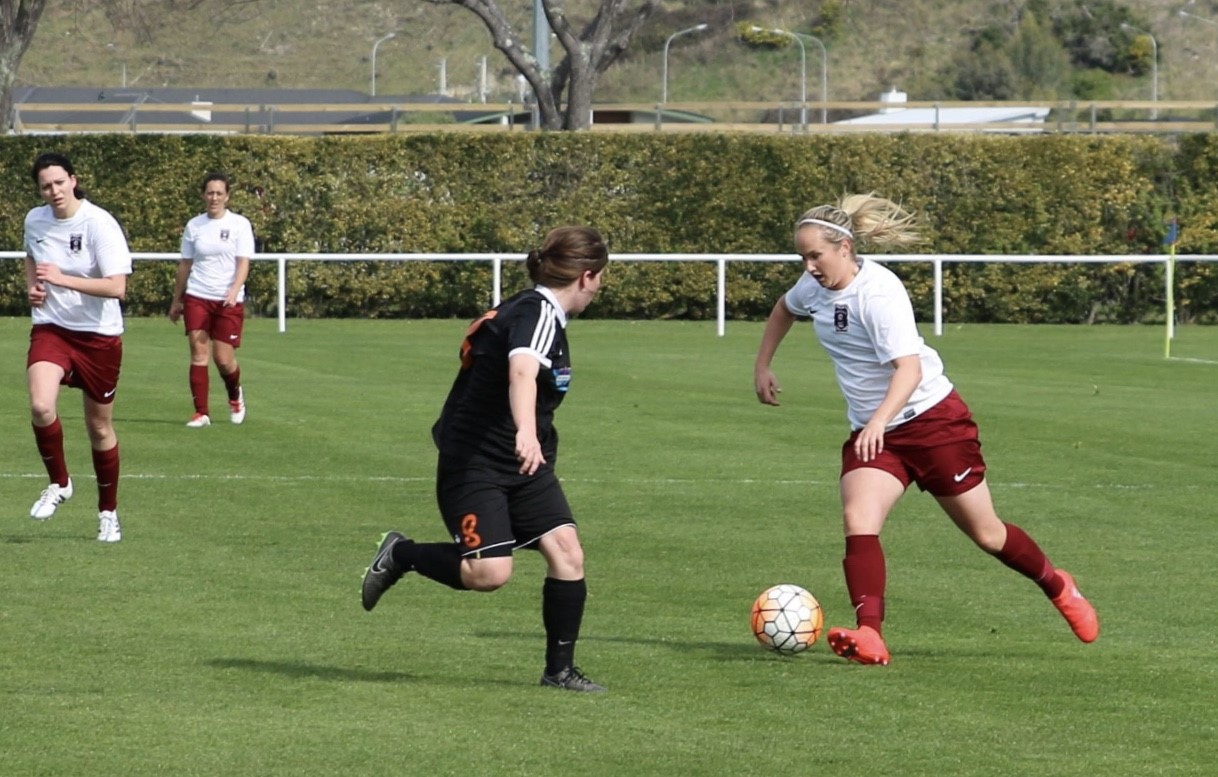 Other participants in the programme are Katie Duncan (Northern Region Football), Harriet Steele (Northern Region Football), Tarena Ranui (WaiBOP), Kate Bennett (Central Football), Maika Ruyter-Hooley (Capital Football), Katie Barrott (Capital Football), Kate Gallagher (Mainland), and Jessica Fuller (Football South).
New Zealand Football Women's Development Manager Ashleigh Cox is delighted with the cohort.
"It's fantastic that the group comes from a diverse range of backgrounds within football. It shows that there is no single way to get involved in coaching, which is really important to demonstrate.
"The 2021 Female Coach Mentorship Programme aims to address the limited number of women pursuing advanced coaching qualifications and careers in high-performance coaching."
"It's an opportunity to develop key leaders in the women's game who can then go on to educate, mentor and inspire the next generation of females looking to take up coaching."
Cox pointed out Lawrence, Lewis, and Vink are all are part of High Performance Sport New Zealand's Women in High Performance Sport pilot project.
Heywood's Taradale club is the only one in the Bay with three women's teams and the Bay's only club with a Federation League women's team. Taradale were inaugural winners of the League in 2018, finished second in 2019 and third last year.
Taradale also won the League's Knockout Cup in 2019.
Heywood broke her leg when playing futsal three years ago and although she hasn't fully recovered from the injury she will again play striker this year.
"We've got a young team this year and we're looking to develop them and have them for at least three years," Heywood explained.
"It's hard when players head off to university. We've also got mothers with 9 to 5 jobs who find it tough to fit in trainings but we cope," Heywood said.
She singled out Napier Girls' High School Year 10 student and midfielder Isla Cleall-Harding as a player with enormous potential. Heywood also coaches her in futsal.
Taradale open their Federation League campaign with a 1pm clash at home against Massey University on April 11