Painful ending for Hawke's Bay United footballers
by Shane Hurndell
Wednesday, Mar 10, 2021 8:28 PM
The 17-season history of the Hawke's Bay United football franchise had a painful ending with today's 2-1 loss to Eastern Suburbs at Napier's Bluewater Stadium.
The New Zealand Football Championship 14th round defeat didn't reflect how well the hosts played and the number of scoring opportunities created. Thirsty Whale Hawke's Bay United had 10 shots on goal, the same amount as Eastern Suburbs.
With their must-win victory Eastern Suburbs earnt an away ISPS Handa Premiership semifinal against Auckland City this weekend and Team Wellington will host Hamilton Wanderers in the other semifinal.
Hawke's Bay United finished seventh in the eight-team New Zealand Football Championship which will become club-based from next summer.
"Yes that's been the story of our season," Hawke's Bay United co-coach and centre back Bill Robertson said referring to the number of opportunities created in a more than respectable display.
"It's disappointing to lose from the position we were in. We needed a little bit more quality at times," Robertson lamented.
As has been the case so often this season Hawke's Bay United appeared to be hard done by when it came to the referee's calls.
"A lot of 50-50 calls went against us. We thought their second goal followed a foul ... but we can't make excuses," Robertson said.
He admitted it will be tough for clubs from the provinces to qualify for the New Zealand Football Championship. He will coach the Napier City Rovers team which must finish in the top three in the Central League, which begins on March 27, to qualify for the NZFC.
"It's always tough for clubs in the regions. There will be restrictions on the number of foreign players we can have and also on the number of youth players we can have ... it will be a test of our resources and I know a number of these Hawke's Bay United players will be leaving the province," Robertson explained.
After a scoreless first half Hawke's Bay United took a 1-0 lead two minutes into the second half. Forward Jorge Akers (pictured above, photo Steph Gunther) scored after Eastern Suburbs conceded a soft turnover.
Eastern Suburbs equalised eight minutes later when Kelvin Kalua slotted in a superb cross from Robert Sabo. Taradale age group product Reid Drake scored the winning goal for Suburbs 25 minutes into the second half.
Akers and fellow forward Gavin Hoy had huge workrates for Hawke's Bay United. Midfielder Karan Mandair (pictured below, photo Chris Kiely) had his best display of the season.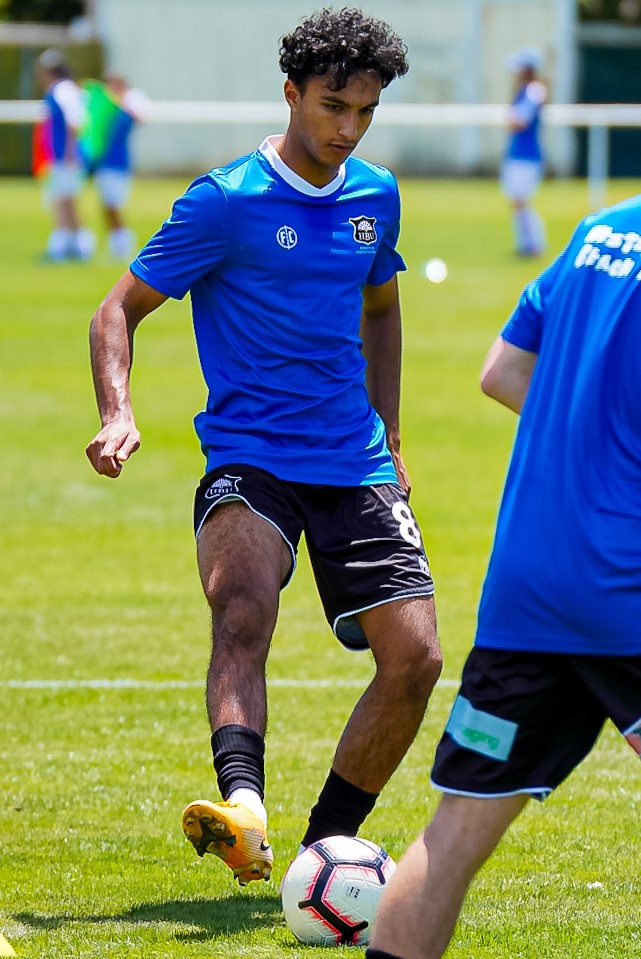 Robertson and fellow defender Kaeden Atkins kept the hosts in the hunt.
Forward Stephen Hoyle, a brother of Hawke's Bay United co-captain and defender James Hoyle, was busy up front for Eastern Suburbs. Midfielder Daniel Edwards was always a threat on attack.
Akers, Mandair and Atkins will all be playing for Miramar in the Central League. All three of these players are under 22 and products of Bay secondary schools. It's easy to to see the challenges Robertson is referring to when it comes to Bay clubs aiming to qualify for the new-look New Zealand Football Championship