Bay paraglider wins national championship
by Shane Hurndell
Thursday, Mar 04, 2021 8:01 PM
Meet Bex Rae ... Hawke's Bay's latest national champion.

Havelock North's Rae (pictured above, photo Ryan Larraman) won the New Zealand Paragliding women's championship title last weekend. The title is awarded to the top ranked pilot after some regional events, overseas competitions and the week-long national championships which ended in Nelson last weekend.

One of 16 female competitors at the 80-pilot nationals, Rae, wasn't sure how many points she won the title by.

"I try and go out and have a good flight. I just like going out and enjoying it ... that kind of works for me," Rae said.

"Although I've been paragliding for 10 years I've only done national and regional competitions for the last five years. I've had my eye on the championship for the last two years," Rae explained.

A past president of the Hawke's Bay Hang Gliding and Paragliding Club, Rae, was taught to fly by Barry Sayer from Havelock Noth-based Airplay Paragliding. For the past four years Rae has been mentored by Queenstown's Louis Tapper who has won the New Zealand men's championship title for the past four years.

"I'm lucky to have Louis mentoring me with my flying," Rae said.

Being a solo mother of 19-year-old twins and a fulltime regional agri support worker for Ravensdown in Napier added to the significance of her feat.

"Getting to this point has been a slow and gradual process aimed at improving my skills."

Rae (pictured below preparing to launch during the nationals, photo Kyla Macdonald) pointed out spending a month in Wanaka training before the national championship paid off.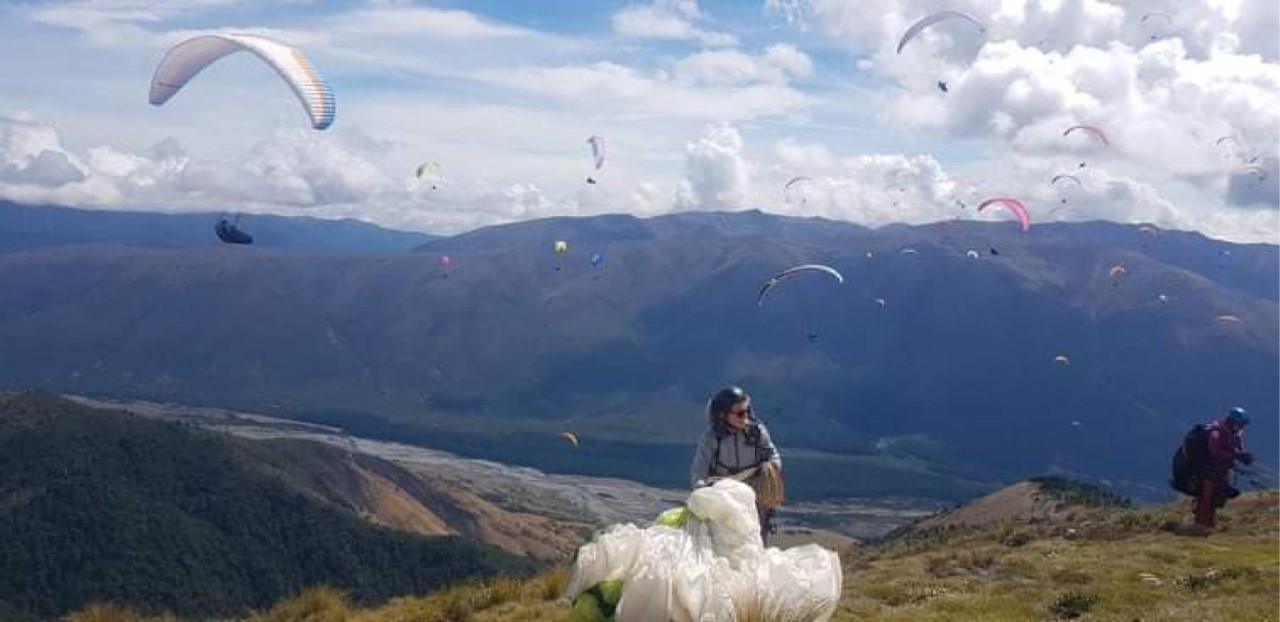 "That enabled me to complete different flights. Back at home we're lucky to have Te Mata Peak where the launch site can be daunting and technical," Rae explained.

"Paragliding provides a wonderful challenge for pilots who take in some amazing scenery. It takes you away from normal life," Rae said.

"You go to some amazing locations with your family away from family."

Rae, who has competed in Australia and Slovenia, will aim to retain her title when next year's national championship is staged in Rotorua or Wanaka.

"That's going to be a challenge because there are so many other good female pilots out there," Rae added.