Emotional touch to pivot's 200th premier club rugby clash
by Shane Hurndell
Saturday, Apr 24, 2021 7:36 AM
Napier Old Boys Marist premier rugby side's first five-eighth Ioane (or Johnny as he is better known) Lauano admits his 200th match for the side will be an emotional one today.
"It's a shame Dad won't be here. He was my No 1 supporter," Ioane said referring to his father Vaa.
"Dad died in July last year after a battle with cancer. He hung in there for my wedding then died a week later," Ioane recalled while holding a photo of his father with support from his new No 1 fan, two-year-old niece Laavasa.
A Specialised Container Services technician at Napier Port, Ioane, 32, made his debut for NOBM in 2005 when he was 16. While he hopes to have another season or two at this level with wife Tilo's permission, Ioane, admitted he might be struggling to match his 40-year-old brother Migao's feats.
Migao, who will be on the bench for the Green Machine when they host Napier Pirate Rugby and Sports in a fourth round Nash Cup fixture at Tremain Field today, is closing in on 300 appearances.
"Hopefully I'm still on the field when Migao comes on. My other brother Sami, who has also played with us in the prems, will be up north with the twos playing YMP," Ioane explained.
"I'm so lucky to have had such great family support over the years," Ioane (pictured below, photo Chris Kiely) said.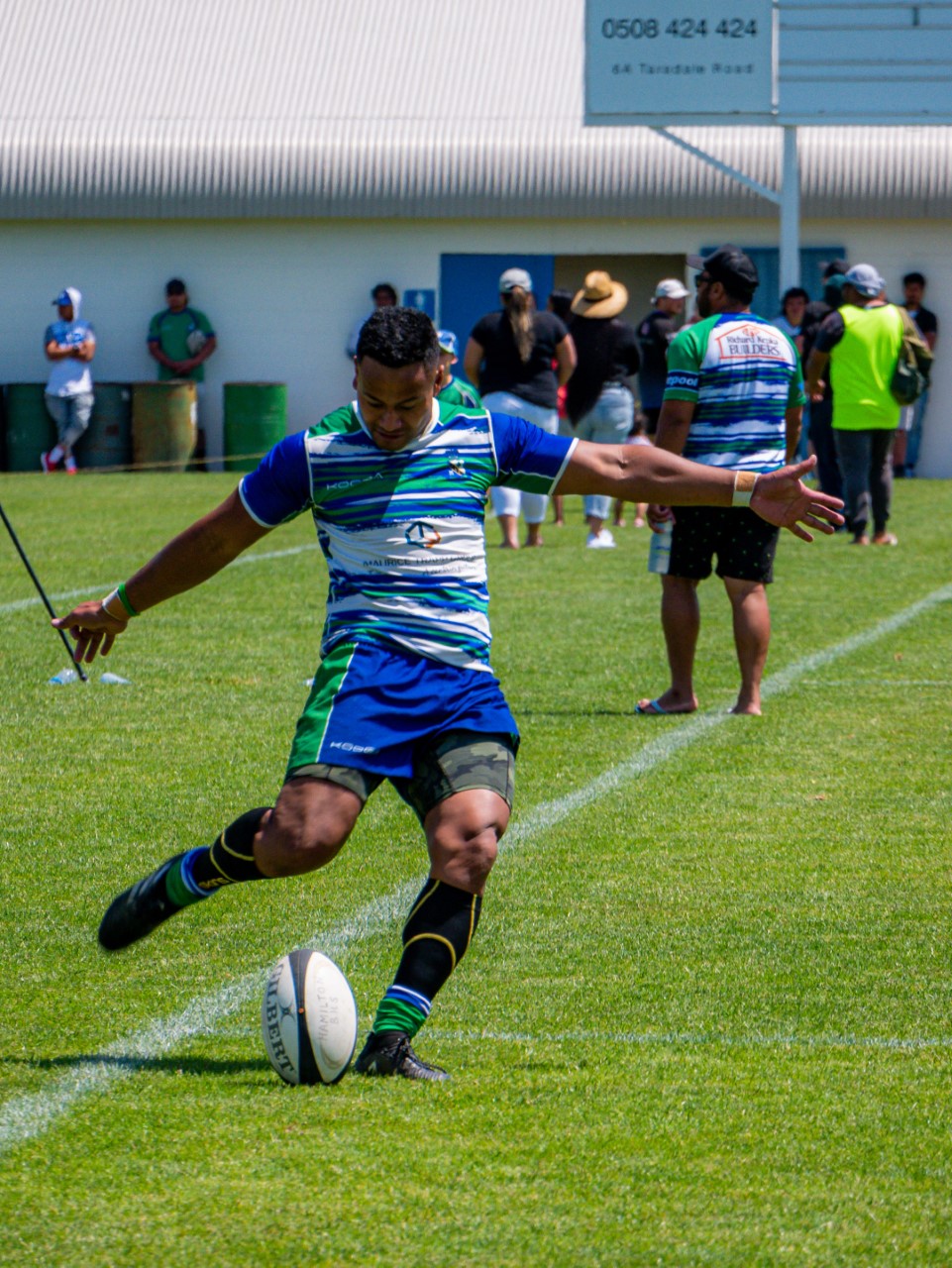 The Tamatea High School old boy was part of a family of four boys and two girls who arrived in the Bay from Samoa in 2000. During his time with the NOBM premiers he has tasted Maddison Trophy glory on three occasions and Nash Cup success three times.
In 2016 Lauano was the best first five-eighth in the Bay's club competition.
He is thrilled today's match will be a Challenge Shield fixture.
"While we've probably missed out on the Nash Cup this season our goals are to retain the Challenge Shield and try and win the Maddison Trophy," Lauano said.
A former Hawke's Bay Saracens and Hawke's Bay Samoans rep, Lauano, is rapt teammate, prop Lee Moleli, will be presented with his blazer for 50 appearances today. Moleli recorded this feat when NOBM retained the Spillane Cup at the New Zealand Marist tournament in Taupo last month.
Normally when players reach 200 games for their club we get them to name a selection of the best players in each position they have played alongside at their club. Lauano said this would be too big a challenge for him but he said he felt privileged to play with the likes of Michael Johnson, Matt Berquist, Mark Abbott, Mike Coman, Eddie Hekenui and Sam Giddens to name a few.
Havelock North second five-eighth Kalin Paewai will play his 100th match for the villagers when they host Central Rugby and Sports at Anderson Park today. Hastings Rugby and Sports will start as slight favourites when they travel to the Tareha Recreation Reserve to take on the competition's other unbeaten side Taradale Rugby and Sports.
Other games will see Napier Technical host Tamatea Rugby and Sports at Whitmore Park and Clive Rugby and Sports host MAC at Farndon Park.