Hawke's Bay cyclist scores gold at National Championships
by Hayley Osterfield
Friday, Apr 29, 2022 4:30 PM
A 64-year-old Hawke's Bay cyclist has marked his seventh time competing at a national level by winning gold.
Sheppard came first in the Time Trial Masters Men's 7 (65-69) at the Age Group Road National Championships held in Hokitika from April 22-24. The championships saw the best Age Group (Youth, Senior, Masters) and Elite Para riders compete for Time Trial and Road Racing titles.
"It was hugely satisfying to win," Sheppard says.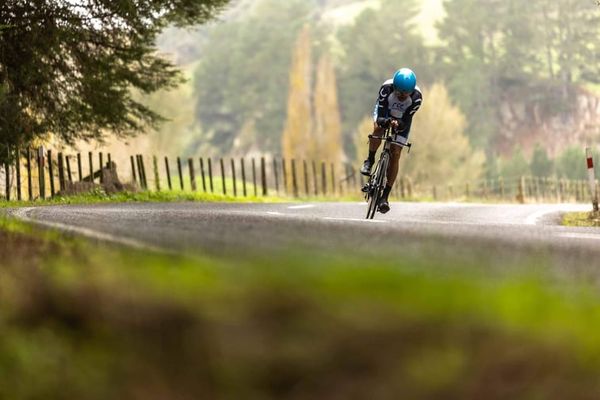 Hawke's Bay cyclist Lindsay Sheppard won gold at the Age Group Road National Championships. Photo/Supplied.
"The build-up for me is always hard - lots of nerves, expectations, fear of a performance etc. Ended up being the second-fastest man on the 15km course. The fastest was Jim McMurray in Masters 6, a multiple world champ. His time was significantly better than mine but I was still next fastest."
The conditions on the day were good with no rain and crosswinds on course. However, Sheppard was caught in a cold downpour one hour before his race.
"Just before my warm-up, I was huddling under a shop cover, shivering," Sheppard recalls. Luckily, the rain stopped and he was able to complete his warm-up. The rain held off for the race.
Sheppard's sporting passions did not always lie with competitive cycling. He was an avid soccer player until he was fifty, however, a knee injury brought that to a grinding halt. After some advice from Hastings Girls High School Teacher, Paul Robarts, he gave racing at the Ramblers Cycling Club a try.
"My first race was one of the hardest things I have ever done," Sheppard recalls.
Sheppard started in E grade and worked his way up to C grade.
"At this stage, I was an average road rider and a poor time trial (TT) rider who also hated doing TT races.
"The transformation started when I got a coach, William Green, who had qualified from Uni with a sports degree and who was also a very good rider. He was 21 and I was 58 at the time.
"I am the sort of person that needs to be given structure and be held accountable to someone who knows what they are doing. I think I was his second person in his books."
Since then it has been a steady progression and along the way, Sheppard discovered that he had a flair for the time trials.
"There is huge satisfaction in being fit and performing well but sometimes you wonder why. I will say however that the more I do TT the more I enjoy it"
"The cycling community in HB is wonderful, club, social and competitive racing so being able to be part of all that is huge for me. Definitely Nationals again next year."