Locals allow Stratford driver to take home $1500 first prize
by Shane Hurndell
Sunday, May 02, 2021 5:27 PM
Hands up if you were surprised Hawke's Bay drivers didn't do more to produce a host-track winner of the Autumn Nationals Superstock title at Meeanee Speedway last night.
I'm with you guys. I couldn't believe the locals didn't work together during the final five laps of the 20-lap feature to stop an out-of-towner from winning the 31-car BJs Bakery & Cafe Hastings-sponsored event staged in front of a crowd of just over 3000.
Hawke's Bay's 2NZ and Magpies rugby prop Jason Long, who had earlier won $1000 for winning the Top 10 Shootout to secure pole for the final established a handy lead early. But he was halted by Palmerston North's former 1NZ William Humphries with five laps remaining.
This allowed Stratford's Blair Uhlenberg (pictured above, photos John Faulkner) to take the lead and go on to capture the $1500 first prize.
Wellingtonian Dale Robertson was second and Thomas Stanaway was the best of the Bay drivers in third place. Long finished fourth and clubmate and defending champion Quinn Ryan fifth.
Uhlenberg, 24, wasn't surprised he wasn't blocked out of contention during the final laps.
"I had a few mates out there. It was hard work and there was no way I could catch Jason so big thanks to Willie," Uhlenberg said.
Humphries and Uhlenberg will be partners at the Palmerston North-hosted Best Pairs event next weekend. Uhlenberg intends to spend his prizemoney on an off-season rebuild.
Heat wins earlier in the meeting went to Ryan, Long, Palmerston North's Adam Joblin and Stanaway. Hawke's Bay's Adam Groome was rolled by Stratford's Brad Uhlenberg, a cousin of Blair, during the Top 10 Shoot Out.
Hawke's Bay's Darren Melling (pictured below) won the 13-car East Coast Streetstock Championship by one point from clubmates Brent Redington and Shane Malcolm. Redington beat Malcolm in a run off for second.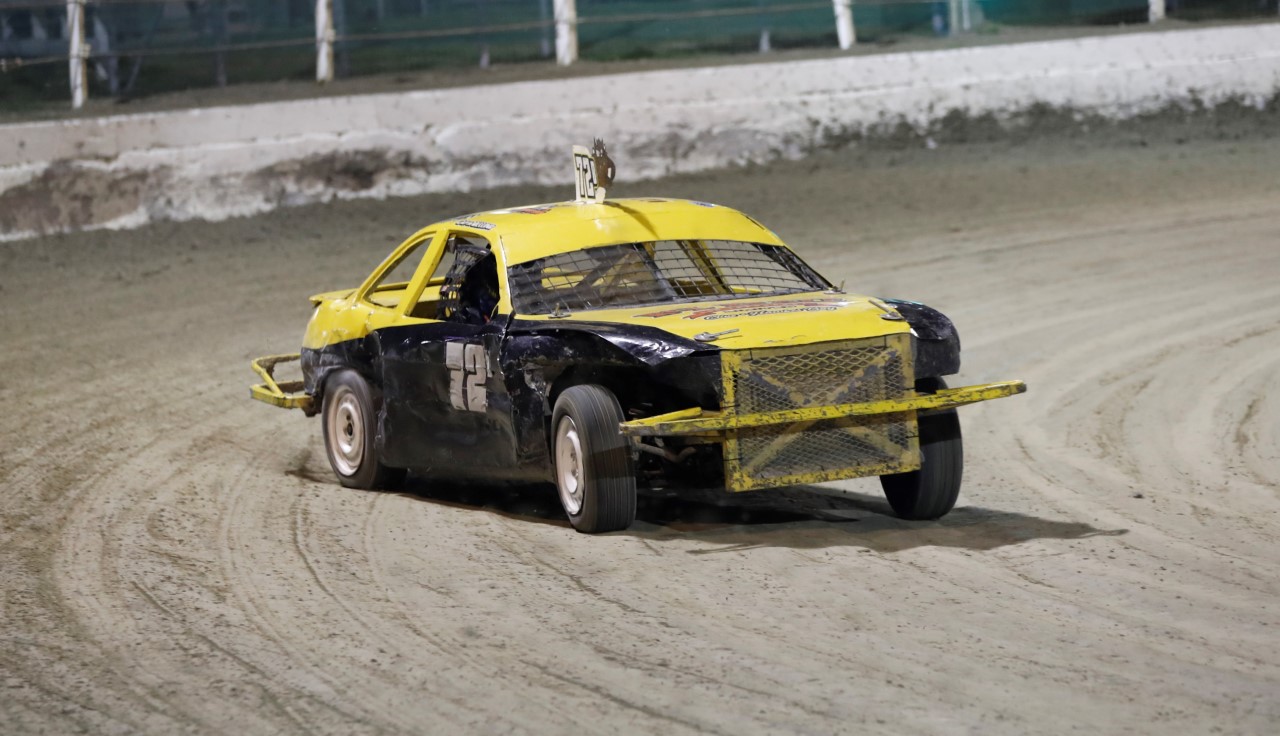 Hawke's Bay drivers Willie Stevenson and Tony Palmer shared the $800 first prize for the Best Pairs Stockcar event which attracted 16 combinations. Rotorua's Hayden Leveridge-Watkins took home the $200 Roll Over money after rolling host-track driver Tyler Robertson in the third heat.
Leveridge-Watkins was driving Hawke's Bay driver Gibson Tout's car as Tout had been concussed earlier in the day when playing rugby.
Hawke's Bay's Craig Boaler and swinger Ann Plummer did well to win all three of their races in the five-crew sidecar class.
Hawke's Bay's Asher Penn rolled in the first heat for the 32-strong ministock class which was won by clubmate Jeremy Browne. Their clubmate Henry Steel had two heat wins and fellow Bay driver Liam Danielsen pipped Wellingtonian Thomas Davis for the victory in the fourth heat.
An entertaining 35-car demolition derby ended the meeting. It lasted 24 minutes and former 1NZ superstock driver Randal Tarrant deserved the chequered flag.
Tags