Mighty Maroons retain Nash Cup in style
by Shane Hurndell
Saturday, May 08, 2021 9:50 PM
Taradale Rugby and Sports second five-eighth and hat-trick hero Kieanan Higgins reckons his team peaked at the right time in Hawke's Bay's Nash Cup premier club competition.
Nobody in the Mighty Maroons army of supporters could disagree after Taradale (pictured above, photos Chris Kiely) retained the cup with a 46-19 demolition job on the competition's only previously unbeaten side this season, Hastings Rugby and Sports, at Elwood Park today.
"We had a slow start to the year. This is the first game where we've got up early and kept the pressure on. Hopefully we can continue this form in the Maddison Trophy round," Higgins (pictured below) said.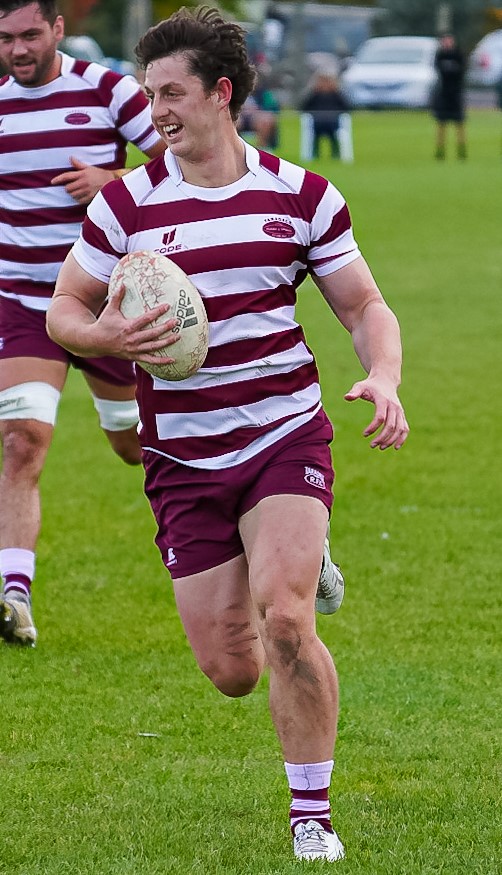 Higgins, 21, who is in his first season with Taradale after transferring from Wellington's Norths club was outstanding. In addition to his hat-trick which he completed by the 20th minute mark he had two assists and two steals.
"There's a different vibe here in the Bay. I've come here with the aim of making the Magpies and we're looking forward to the first pre-season game against Waikato in Taupo on Wednesday. This is a big week for a lot us," Higgins said.
His combination with centre Hemaua Samasoni was classy. Their job was made easier by the absence of the Hastings midfield trio of Mason Emerson and Danny Toala which was used in the Hastings team's 25-15 win against Taradale a fortnight ago.
On that occasion the Hastings Rugby and Sports pack was dominant. But today it was the Taradale pack's turn to rule and the return of flanker and lineout ace Josh Eden-Whaitiri and fellow flanker Nathan Tweedy was a key factor in the improvement.
Captain and prop Namatahi Waa and busy No 8 Iakapo Mapu (pictured below) were also influential figures in the Taradale pack. Along with Higgins winger Majella Tufuga was lethal in the Taradale backline.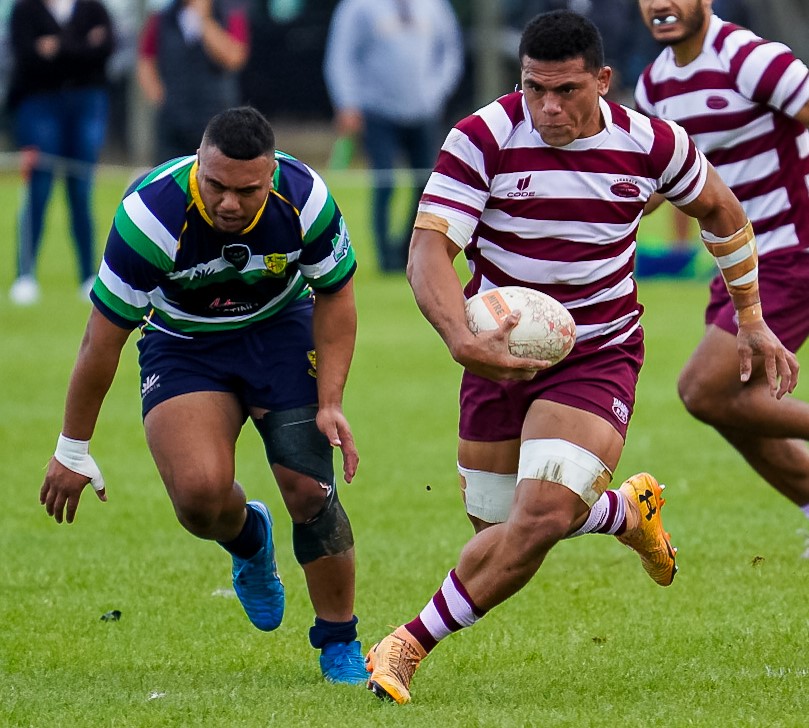 In addition to the injured Emerson and Toala, who returned to Hurricanes duty, Hastings also missed the services of Magpies hooker and regular No 8 Jacob Devery. Prop Dennis Tapusoa, who made some powerful carries, was the pick of the Hastings forwards.
Halfback Connor McLeod and winger Luke Rosavili were the best of the Hastings backs.
Hastings should have capitalised more when four Taradale players had their respective stints in the sinbin. Referee Tipene Cottrell's 19-6 penalty count was also in the hosts favour but to be fair the damage had already been done before those penalties began to mount.
Meanwhile in the Town and Country town final hosts Maraenui pipped the Napier Old Boys Marist premier reserve side 22-18 while in the country final hosts Aotea beat Otane 31-18 at Dannevirke's Rugby Park.
Scorers in the Nash Cup final:
Taradale Rugby and Sports 46 (Kienan Higgins 3, Majella Tufuga, Nathan Tweedy, Iakopo Mapu, Hemaua Samasoni tries; Brad Truesdale 3 cons, pen; Cameron Robinson con), Hastings Rugby and Sports 19 (Jordan Thompson-Dunn, Luke Rosavali, Johnny Saifiti tries; Connor McLeod 2 cons). HT: 24-14.