Third title for Hastings professional tennis coach
by Shane Hurndell
Sunday, Mar 28, 2021 4:30 PM
Rynold Timothy heaped kudos on his wife Mariana after he won his third Tennis Eastern residentials title on Sunday.
"Mariana saw me training and encouraged me to take on the professional coach job at the Hastings club when I was considering other options. It's because of her I am able to put plenty of time into my game," Timothy explained.
The 33-year-old who was raised in Kochi, India and has been in Hawke's Bay for five years beat the Hastings club's former head professional coach and multiple national seniors champion, 50-year-old Craig Giddy, 4-6, 6-0, 6-2 in Sunday's final at the Greendale club.
"We've got a lot of good juniors on the rise and my goal is to make them fight for these titles ... they shouldn't get things easy," Timothy (pictured above) said.
"I also want to see our better players training and playing 10 months of the year. Tennis is no longer a four-month-a-year sport," Timothy explained.
Having helped Tennis Eastern retain the Christie Cup, the symbol of Central Districts tennis supremacy earlier this summer, Timothy, is looking forward to the May fixtures against Waikato-Thames Valley, Bay of Plenty and Western Bay of Plenty in Rotorua.
In their respective semifinals, Timothy beat Greendale's Jonathan Fall 3-6, 6-2, 6-1 and Giddy beat Greendale's Hunter Every 6-2, 6-4.
Havelock North's Olivia Addis, 22, retained her women's title with a 6-3, 4-6, 6-1 victory against Greendale's Alex Cave in her final. In their respective semifinals Addis beat clubmate Sophie Ward 6-2, 6-2 and Cave beat Havelock North's Phoebe Driscoll 6-1, 6-3.
Addis (pictured below) was hoping to head overseas and play in Asia last year but the Covid-19 pandemic halted those plans.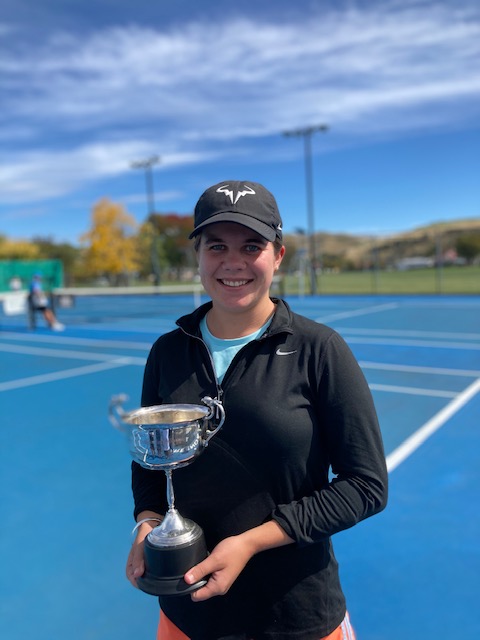 "That is still the goal once the pandemic risks lessen and in the meantime, I will focus on training as well as my final year of studies at university in Wellington. Like Rynold I'm looking forward to those May fixtures," Addis said.
Tennis Eastern development officer Sean Davies said 10 players competed in the women's draw and he was impressed with the calibre of play.
"The standard among the top four or five coming through is phenomenal."
The men's premier reserve grade final saw Hawke's Bay Lawn's Wayne Hudson beat Havelock North's Monty Cullwick 7-5, 6-2. In their respective semifinals, Hudson beat Greendale's Stu Dawson 6-3, 3-6, 10-7 and Cullwick beat Greendale's Logan Margerison 6-4, 7-6.