Toala's all class as Hastings Rugby and Sports remain unbeaten
by Shane Hurndell
Saturday, Apr 24, 2021 8:44 PM
Hurricanes midfield back Danny Toala was classy as his Hastings Rugby and Sports team won the clash of the unbeaten teams in Hawke's Bay's premier club competition today.
Toala (pictured above, photos Chris Kiely) scored two tries and impressed with his tactical kicking, distribution and defensive reads in Hastings 25-15 victory over defending champions Taradale Rugby and Sports in a fourth round Nash Cup encounter at the Tareha Recreation Reserve.
Despite Taradale's loss it will be a major surprise if the two teams don't meet again in the May 8 Nash Cup final. Hastings captain and prop Jason Long led his troops by example in his 150th match for the visitors.
Lock Jessie Lesa-Sipaia, No 8 Jacob Devery and loosie Jardine Chung Ching were also prominent in a cohesive Hastings pack. Winger Gideon Kautai deserved his spot on the Hastings coaching staff's MVP list.
The below-strength Taradale side's discipline and patience levels weren't up to the standards required. Their No 8, Iakopo Mapu, was always a threat on the carry.
Halfback Humphrey Sheild was lively and first five-eighth Cam Robinson had some memorable moments.
Regular hooker Liam Rowlands had a massive workrate at blindside flanker. Regular prop Sam Combs can be proud of his contribution at lock.
Scorers:
Hastings Rugby and Sports 25 (Danny Toala 2, Jacob Devery tries; Connor McLeod 2 pens, 2 cons), Taradale Rugby and Sports 15 (Lolani Faleiva, Sam Combs tries; Cam Robinson pen, Carlos Kemp con). HT: 10-3.

CENTRAL 32 HAVELOCK 29
Central Rugby and Sports manager Ian Large had every right to pour kudos over first five-eighth Harry Godfrey after this Anderson Park encounter.
In his first match for Central, Hurricanes under-20 rep Godfrey, scored 22 points with five penalties, including a match-winning kick in injury time, two conversions and a dropped goal. More importantly Godfrey helped the visitors avoid relegation. Havelock North will miss out on a berth in this season's Maddison Trophy competition.
Large said his entire squad can be proud of their effort. He was particularly happy with the contribution of club captain Logan McKay, who was promoted from the seconds, and had 25 minutes off the subs bench.
Central also spoilt second five-eighth Kalin Paewai's 100th outing for the hosts. Paewai and his twin brother Jessie operated well in a backline well controlled by former All Black Sevens rep Trinity Spooner-Neera.
Hooker Jasper Wyllie and loosies Tony Lamborn and Tama Hawkins were the best of the Havelock forwards.
Scorers:
Central Rugby and Sports 32 (Tate Harte, Joeli Rauca tries; Harry Godfrey 5 pens, 2 cons, dropped goal), Havelock North 29 ( Trinity Spooner-Neera, Jone Tuidraki tries; Spooner-Neera 5 pens, 2 cons). HT: 20-12.

NOBM 68 PIRATE 7
Talk about turning it on for first five-eighth Johnny Lauano's 200th match.
Yes Napier Old Boys Marist certainly did with this Tremain Field drubbing. Lauano (pictured below) joined blindside flanker Hannon Brighouse and hooker Dominic Devine on coach Ellery Wilson's MVP list.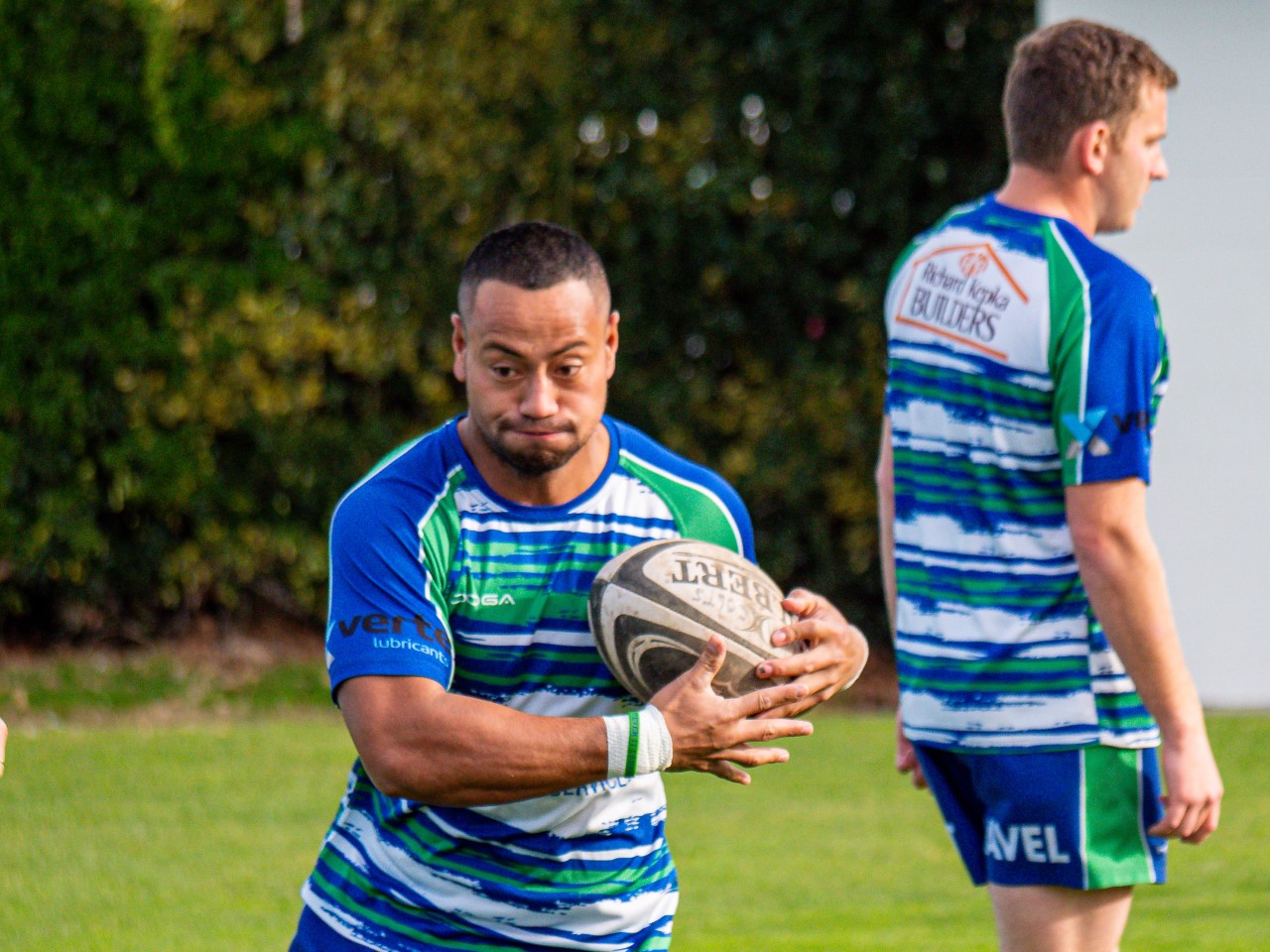 Second five-eighth Bain Champion did well to convert nine of the Green Machine's 10 tries. Napier Pirate Rugby and Sports will also miss out on a berth in the Maddison Trophy competition.
Scorers:
Napier Old Boys Marist 68 (Zach Donaldson 2, Matt Gardner 2, Lee Moleli, Hannon Brighouse, Dom Devine, Alex Williams, Josh McIntyre, Johnny Faleiva tries; Bain Champion 9 cons), Napier Pirate Rugby and Sports 7 (Not supplied). HT: 42-0.
TECH 42 TAMATEA 31
A dominant first half propelled Napier Technical to this Whitmore Park victory.
The hosts led 23-5 at halftime before Tamatea staged an entertaining comeback in the second half. Former Magpies prop Mark Braidwood only wanted a short stint off the pine but did well during 70 minutes of action for the Texans who are down on front rowers.
Busy No 8 Xavier McCorkindale and halfback Sheridan Rangihuna also impressed for Tech.
Tamatea's front row of props Mason Kean and Manahi Goulton and hooker Kianu Kereru-Symes combined well. Ash Robinson, who had shifts at fullback and halfback was the best of the Tamatea backs.
Scorers:
Napier Technical 42 (Corey McCaffrey, Xavier McCorkindale, Ben Te Hau, Ted Walters, Tere Joel, Wayde Moore tries; Sheridan Rangihuna 3 cons, 2 pens), Tamatea Rugby and Sports 31 (Manahi Goulton, Ash Robinson, Elijah Mataira, Donovan Godinet, Mataeus Marsh tries; Robinson 2, Jimi Harris cons). HT: 23-5.

CLIVE 34 MAC 24
Magpies winger Lolagi Visinia produced a player-of-the-match display at centre for Clive Rugby and Sports in this Farndon Park win.
Visinia scored two tries and kicked three conversions. Workaholic No 8 Trent Randell and lock Taranaki Hokianga, who made his first starting XV appearance after coming off the bench the previous week, also made manager Dean Hales' MVP list.
MAC coach Mutu Ngarimu said discipline lapses again let his team down.
"We had three yellow cards and one red and at one stage we were down to 13 players. But it's all stuff we can control."
Props Paula Latu and Maika Fehoko were inspirational in Ngarimu's pack. Fehoko was making his first starting XV appearance.
Johnny Ika, who had stints at fullback and first five-eighth, was the pick of the MAC backs.
Scorers:
Clive Rugby and Sports 34 (Lolagi Visinia 2, Nick Agnew, Josh Kaifa, Witana Sullivan tries; Visinia 3 cons, Tianua Poto pen), MAC 24 (Paula Latu, Johnny Ika, Maika Fehoko tries; Zedekiah Awa 3 cons, pen). HT: 19-10.