Todd claims Hawke's Bay TQ championship title
by Shane Hurndell
Sunday, Apr 18, 2021 8:04 PM
Two weeks after winning the North Island TQ title Hawke's Bay's Duane Todd won the provincial championship at Meeanee last night.
"I've been fast all year and not quite won all the titles I chased. I was in the top three for 23 of the 25 lap final and just missed out on the podium at the nationals in Greymouth," Todd (pictured above, photos John Faulkner) recalled.
"So it was good for the team to win two of my last three events for the year," Todd said.
With first, second and third placings in his three heats, two-time national champion Todd, won the nine-car championship by two points from clubmate Kris Gillies. Hawke's Bay's Tony Meechan was one point behind Gillies in third place.
Gisborne's Ryan MacGregor was third equal after the first two heats but rolled out of contention on the first corner of the third heat.
Todd's final event for the season wll be next weekend's Dusty Rhodes Memorial Classic in Kihi Kihi. He was second in it last season and will aim to finish the season with three consecutive titles.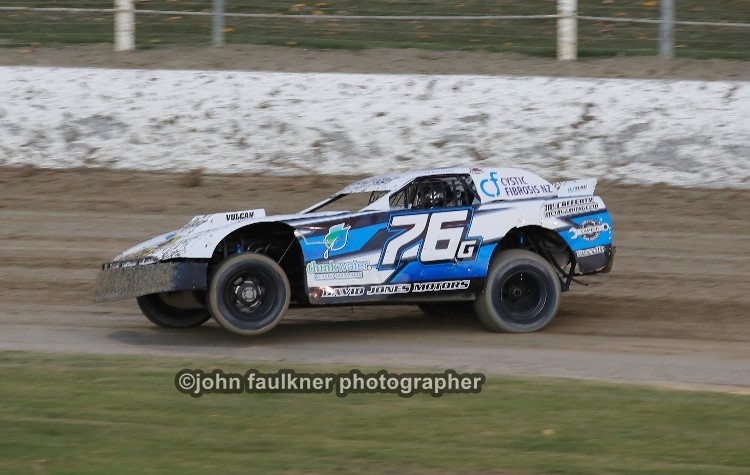 Last night's feature event was the fifth and final round in the Pit Stop Saloon Series which attracted 20 drivers. After winning a spectacular Shoot Out for the top seven drivers Gisborne's Ethan Cook (pictured above) opted for pole for the winner-takes-all 20-lap final.
It was a caution-free final which saw Cook pip Mount Maunganui's Jared Fletcher and Mount Maunganui's 1NZ Chris Cowling finished third.
Fletcher (pictured below) was the overall winner of the series and Gisborne's Cook brothers Dan and Ethan finished second and third respectively. As predicted by your's truly Shane Laking did the best of the Hawke's Bay-contracted starters in the round with a 13th placing in the final.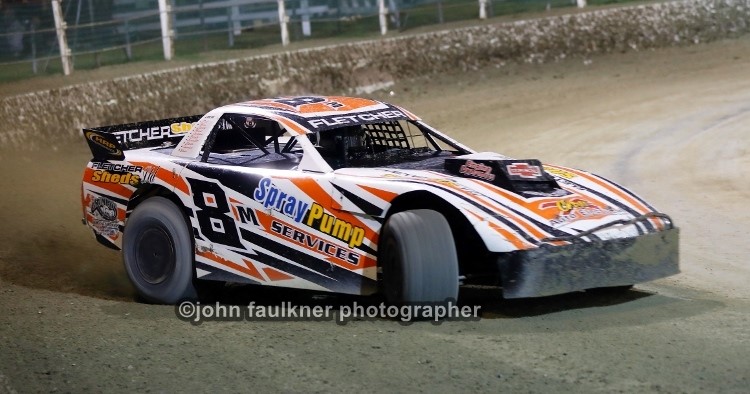 Ten drivers fronted for the East Coast Production Saloon Championship. Gisborne's Seth McKay (pictured below) won the title and despite not finishing the third heat after blowing his motor on the fifth lap Hawke's Bay's Denton Hodgkinson was second. Another host-track driver, Brent Gosney, was third.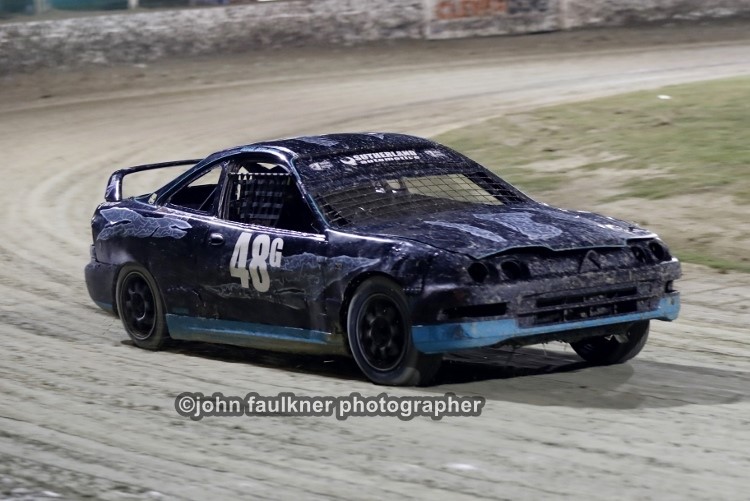 Thirteen superstock drivers fronted for what was their final rehearsal at the track for the May 1 Autumn Nationals. Hawke's Bay's 2NZ Jason Long won the first heat less than 90 minutes after helping his Hastings Rugby and Sports team pip Napier Old Boys Marist 30-26 in the feature Hawke's Bay premier club rugby match.
Long's clubmate and former Hawkeye, Thomas Stanaway, won the other two heats.
Thirty ministock drivers, all from the host track, provided the other support class action. Henry Steel had two wins and Blake Barraclough and Bailey Smith were the other heat winners.
Jacob Buckrell was awarded for his consistency, two thirds and a second placing, with the driver of the night award for the class.