Notable omissions from Hawke's Bay's 2021 Sports Awards finalists
by Shane Hurndell
Wednesday, May 05, 2021 6:10 AM
Where are Hawke's Bay Magpies rugby players Ash Dixon and Folau Fakatava?
That question immediately came to mind when the finalists for the 2021 Forsyth Barr Hawke's Bay Sportsperson of the Year function were announced this morning. While the Magpies team (pictured above, photo Chris Kiely) were nominated for the Senior Team award and must be considered hot favourites after winning the Ranfurly Shield and Mitre 10 Championship title Dixon and Fakatava weren't nominated for the Senior Sportsperson Award.
Magpies captain Dixon won the New Zealand Maori Player of the Year award during the judging period and captained the national side to victory over the Moana Pasifika team which included Mitre 10 Cup Player of the Year Fakatava.
Despite the pair's absence there are still four quality finalists for the Senior award, none of whom are previous winners. They are world ranked scooter riding exponent Alexandra Madsen, national 200m sprinting champion Georgia Hulls (pictured below, photo John Faulkner), alpine ski racer and former Junior Sportsperson Award winner Piera Hudson and national champion rower Tom Mackintosh.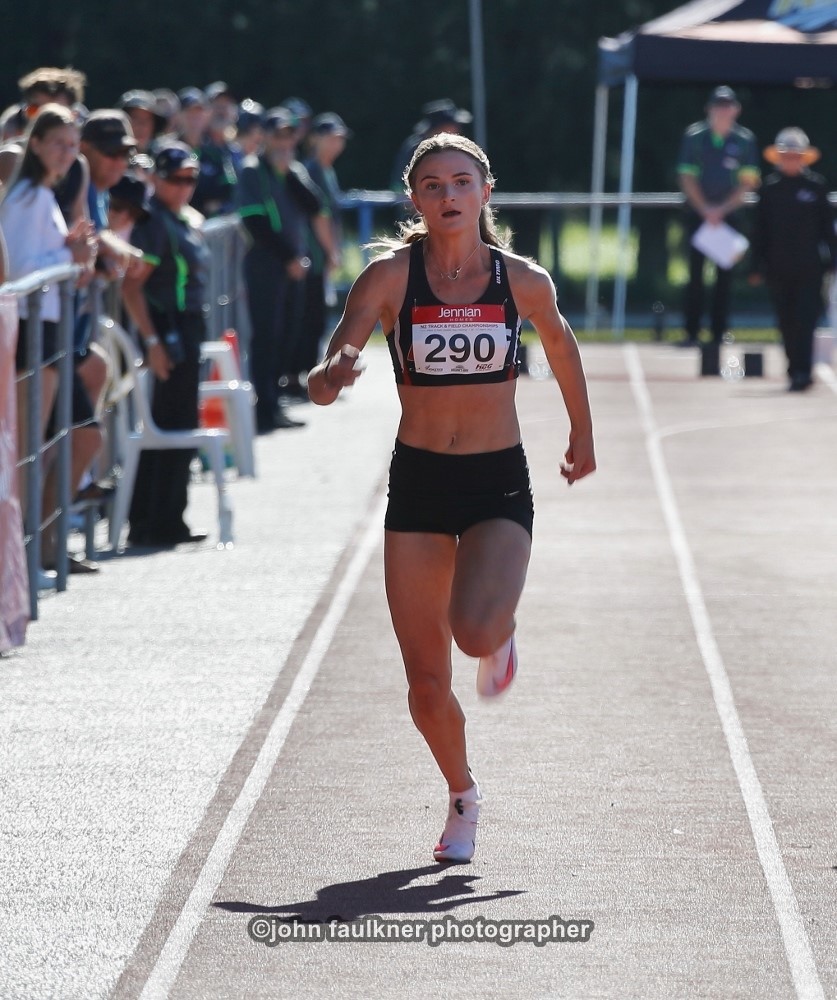 Judges, experts in their sporting and sports media fields, have narrowed a lower than normal number of nominations down to 41 finalists across 13 categories.
Due to the ongoing impact of Covid-19, the 2020 function was completed completely online for the first time with kayaker Aimee Fisher claiming her third title in five years. The 2021 function is back to normal with winners set to be announced at the May 29 function in Taradale's Pettigrew-Green Arena.
The winners of the Disabled, Masters, Junior and Senior Sportsperson and Junior and Senior Team awards all go forward as finalists for the supreme award, the Forsyth Barr Hawke's Bay Sportsperson of the Year.
Sport Hawke's Bay General Manager, Ryan Hambleton said, "With the impact Covid-19 had on our sporting landscape over the past 18 months, we have again produced some outstanding finalists for this year's awards. On behalf of Sport Hawke's Bay and all supporters of sport, thank you to all of those who took the time to nominate a wide range of worthy volunteers, coaches, officials and sportspeople."
"This year was a bit different for the judges with a lot of competition taking place locally. It didn't make the job any easier with 18 sports represented spread across 41 finalists, this year looks to be another great opportunity to celebrate all that is great about sport," he said.
"It's great to see so many from the Hawke's Bay community taking this opportunity to recognise and celebrate successes in their sport and acknowledge those who work so hard to make sport happen. We also say thanks to the amazing sponsors who continue to support the sport sector to help make this night happen" Hambleton added.
Football, basketball, canoe polo and hockey had the highest number of finalists announced for the 2021 event and follows a successful year from a range of areas within each organisation, with scooter, BMX racing and bowls also represented, it shows the wide spread of sports up for an award on the evening.
Tickets for the awards function are highly sought after and can be purchased through Sport Hawke's Bay by visiting www.hbsportsawards.co.nz or visiting the Sport Hawke's Bay office at Pettigrew-Green Arena
Former New Zealand netballer, Sky Sport presenter Courtney Tairi, will be the MC at the awards function.
Finalists in the respective categories are:
Sportsground Administrator: Chris McIvor (Basketball, Football, Volleyball), Graeme Sole (Football), Ngaia Richardson (Triathlon), Paula Hansen (Football).
Nimon & Sons Sports Organisation: Basketball Hawke's Bay, Canoe Polo Hawke's Bay.
Zeelandt Grassroots Club: Bowls Naper, Napier City Rovers Football, Triathlon Hawke's Bay.
Ngati Kahungunu Iwi Impact on Maori Sport: To be announced on the night.
Three Wise Birds Innovation: Central Football, Hastings Girls' High School Colour Shamozzle, Hawke's Bay Hockey, Triathlon Hawke's Bay.
Brebner Print Official: Dan Waenga (Rugby), Georgia Mayo (Hockey).
Kennedy Park Resort Masters: Dennis O'Leary (Athletics), Jane Wylie (Tennis), Lance Baylis (Powerlifting).
Coach: Andrew Bowden (Canoe Polo), Dave Castle (Cricket), Kelly Hepburn (Canoe Polo), Mark Ozich (Rugby).
Glenn Cook Technologies Lifetime Contribution: David Greene (Football), Donnette Daly (Basketball).
Stirling Sports Junior Team: Hastings Boys' High School Basketball, Havelock North High School Canoe Polo.
EIT Junior Sportsperson: Charlotte Lancaster (Football), Renee Colman-Savage (BMX Racing), Sean Findlay (Hockey), Sophie Daly (Equestrian, Mounted Games).
Paladin Disabled Sportsperson: Guy Harrison (Athletics), Lance Dustow (Swimming), Peter Cowan (Waka Ama).
Tremains Senior Team: Hawke's Bay Magpies Rugby, Hawke's Bay Rowing Club Men's Four, Hawke's Bay Senior Men's Cricket, Taylor Hawks 3 X 3 Basketball.
Hawke's Bay Today Senior Sportsperson: Alexandra Madsen (Scooter Riding), Georgia Hulls (Athletics), Piera Hudson (Alpine Ski Racing), Tom Mackintosh (Rowing).
Forsyth Barr Sportsperson of the Year: To be announced on the night.